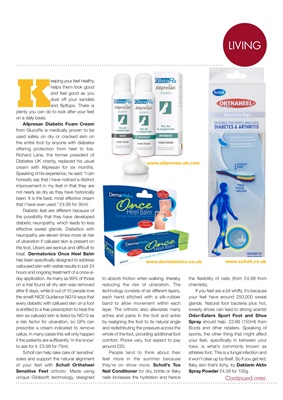 KITLIVING
K
eeping your feet healthy
helps them look good
and feel good as you
dust off your sandals
and flipflops. There is
plenty you can do to look after your feet
on a daily basis.
Allpresan Diabetic Foam Cream from
GlucoRx is medically proven to be used
safely on dry or cracked skin on the entire
foot by anyone with diabetes offering
protection from heel to toe. Richard
Lane, the former president of Diabetes
UK charity, replaced his usual cream with
Allpresan for six months. Speaking of his
experience, he said: "I can honestly say
that I have noticed a distinct improvement
in my feet in that they are not nearly as
dry as they have historically been. It is the
best, most effective cream that I have ever
used." £4.99 for 35ml.
Diabetic feet are different because of
the possibility that they have developed
diabetic neuropathy, which leads to less
effective sweat glands. Diabetics with
neuropathy are eleven times more at risk
of ulceration if callused skin is present on
the foot. Ulcers are serious and difficult to
treat. Dermatonics Once Heel Balm has
been specifically designed to address
calloused skin with visible results in just 24
hours and ongoing treatment of a once-aday application.
As many as 99% of those
on a trial found all dry skin was removed
after 8 days, while 9 out of 10 people love
the smell! NICE Guidance NG19 says that
every diabetic with callused skin on a foot
is entitled to a free prescription to treat the
skin as callused skin is listed by NG19 as
a risk factor for ulceration, so GPs can
prescribe a cream indicated to remove
callus. In many cases this will only happen
if the patients are sufficiently 'in the know'
to ask for it. £5.99 for 75ml.
Scholl can help take care of 'sensitive'
soles and support the natural alignment of
your feet with Scholl Orthaheel Sensitive
Feet orthotic. Made using unique
Glidesoft technology, designed to absorb
friction when walking, thereby reducing
the risk of ulceration. The technology
consists of six different layers, each hand
stitched with a silk-rubber band to allow
movement within each layer. The orthotic
also alleviates many aches and pains in
the foot and ankle by realigning the foot
to its natural angle and redistributing the
pressure across the whole of the foot,
providing additional foot comfort. Prices
vary, but expect to pay around £20.
People tend to think about their feet
more in the summer because they're on
show more. Scholl's Toe Nail Conditioner
for dry, brittle or flaky nails increases the
hydration and hence the flexibility of nails
(from £4.99 from chemists).
If you feet are a bit whiffy, it's because
your feet have around 250, 00 sweat
glands. Natural foot bacteria plus hot,
sweaty shoes can lead to strong scents!
Odor-Eaters Sport Foot and Shoe Spray
should help. £3.69 (150ml) from Boots
and other retailers. Speaking of sports,
the other thing that might affect your feet,
specifically in between your toes, is what's
commonly known as athletes foot. This is
a fungal infection and it won't clear up by
itself. So if you get red, flaky skin that's
itchy, try Daktarin Aktiv Spray Powder
£4.39 for 100g.
www.dermatonics.co.uk www.scholl.co.uk
Continued over.