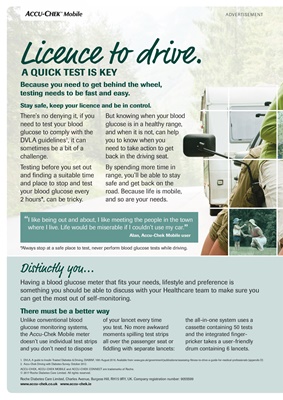 1. DVLA, A guide to Insulin Treated Diabetes & Driving, DIABINF, 10th August 2016. Available from: www.gov.uk/government/publications/assessing-fitness-to-drive-a-guide-for-medical-professionals (appendix D)
2. Accu-Chek Driving with Diabetes Survey, October 2012.
ACCU-CHEK, ACCU-CHEK MOBILE and ACCU-CHEK CONNECT are trademarks of Roche.
© 2017 Roche Diabetes Care Limited. All rights reserved.
Roche Diabetes Care Limited, Charles Avenue, Burgess Hill, RH15 9RY, UK. Company registration number: 9055599
www.accu-chek.co.uk www.accu-chek.ie
Stay safe, keep your licence and be in control.
Licence to drive.
A QUICK TEST IS KEY
Because you need to get behind the wheel,
testing needs to be fast and easy.
There must be a better way
" I like being out and about, I like meeting the people in the town
where I live. Life would be miserable if I couldn't use my car."
Alan, Accu-Chek Mobile user
* Always stop at a safe place to test, never perform blood glucose tests while driving.
There's no denying it, if you
need to test your blood
glucose to comply with the
DVLA guidelines1, it can
sometimes be a bit of a
challenge.
Testing before you set out
and finding a suitable time
and place to stop and test
your blood glucose every
2 hours*, can be tricky.
But knowing when your blood
glucose is in a healthy range,
and when it is not, can help
you to know when you
need to take action to get
back in the driving seat.
By spending more time in
range, you'll be able to stay
safe and get back on the
road. Because life is mobile,
and so are your needs.
Unlike conventional blood
glucose monitoring systems,
the Accu-Chek Mobile meter
doesn't use individual test strips
and you don't need to dispose
of your lancet every time
you test. No more awkward
moments spilling test strips
all over the passenger seat or
fiddling with separate lancets:
the all-in-one system uses a
cassette containing 50 tests
and the integrated fingerpricker takes
a user-friendly
drum containing 6 lancets.
Distinctly you...
Having a blood glucose meter that fits your needs, lifestyle and preference is
something you should be able to discuss with your Healthcare team to make sure you
can get the most out of self-monitoring.
ADVERTISEMENT