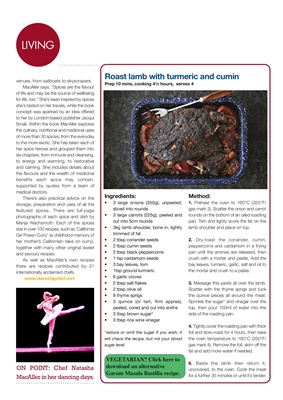 LIVINGLIVING
venues, from sailboats to skyscrapers.
MacAller says, "Spices are the flavour
of life and may be the source of wellbeing
for life, too." She's been inspired by spices
she's tasted on her travels, while the book
concept was sparked by an idea offered
to her by London-based publisher Jacqui
Small. Within the book MacAller explores
the culinary, nutritional and medicinal uses
of more than 30 spices, from the everyday
to the more exotic. She has taken each of
her spice heroes and grouped them into
six chapters, from immune and cleansing,
to energy and warming, to restorative
and calming. She includes details about
the flavours and the wealth of medicinal
benefits each spice may contain,
supported by quotes from a team of
medical doctors.
There's also practical advice on the
storage, preparation and uses of all the
featured spices. There are full-page
photographs of each spice and dish by
Manja Wachsmuth. Each of the spices
star in over 100 recipes, such as 'California
Girl Prawn Curry' (a childhood memory of
her mother's Californian take on curry),
together with many other original sweet
and savoury recipes.
As well as MacAller's own recipes
there are recipes contributed by 21
internationally acclaimed chefs.
Roast lamb with turmeric and cumin
Prep 10 mins, cooking 4½ hours, serves 4
Ingredients:
• 3 large onions (350g), unpeeled,
sliced into rounds
• 3 large carrots (225g), peeled and
cut into 5cm rounds
• 3kg lamb shoulder, bone in, lightly
trimmed of fat
• 2 tbsp coriander seeds
• 2 tbsp cumin seeds
• 2 tbsp black peppercorns
• 1 tsp cardamom seeds
• 3 bay leaves, torn
• 1tsp ground turmeric
• 6 garlic cloves
• 2 tbsp salt flakes
• 2 tbsp olive oil
• 8 thyme sprigs
• 3 quince (or tart, firm apples),
peeled, cored and cut into sixths
• 3 tbsp brown sugar
• 3 tbsp rice wine vinegar
Method:
1. Preheat the oven to 160°C (325°F/
gas mark 3). Scatter the onion and carrot
rounds on the bottom of an oiled roasting
pan. Trim and lightly score the fat on the
lamb shoulder and place on top
.
2. Dry-toast the coriander, cumin,
peppercorns and cardamom in a frying
pan until the aromas are released, then
crush with a mortar and pestle. Add the
bay leaves, turmeric, garlic, salt and oil to
the mortar and crush to a paste.
3. Massage this paste all over the lamb.
Scatter with the thyme sprigs and tuck
the quince pieces all around the meat.
Sprinkle the sugar and vinegar over the
top, then pour 100ml of water into the
side of the roasting pan.
4. Tightly cover the roasting pan with
thick foil and slow-roast for 4 hours.
5. Raise the oven temperature to 180°C
(350°F/gas mark 4). Remove the foil, skim
off the fat and add more water if needed.
6. Baste the lamb then return it,
uncovered, to the oven. Cook the meat
for a further 35 minutes or until it's tender.
VEGGIE? Click here for a PDF
of a Garam Masala Bastilla.
ON POINT: Natasha MacAller
in her dancing days.