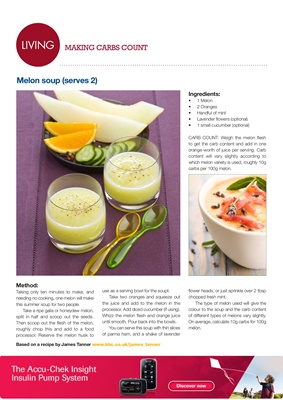 LIVINGLIVING
Melon soup (serves 2)
Ingredients:
• 1 Melon
• 2 Oranges
• Handful of mint
• Lavender flowers (optional)
• 1 small cucumber (optional)
CARB COUNT: Weigh the melon flesh
to get the carb content and add in one
orange-worth of juice per serving. Carb
content will vary slightly according to
which melon variety is used, roughly 10g
carbs per 100g melon.
MAKING CARBS COUNT
Method:
Taking only ten minutes to make, and
needing no cooking, one melon will make
this summer soup for two people.
Take a ripe galia or honeydew melon,
split in half and scoop out the seeds.
Then scoop out the flesh of the melon,
roughly chop this and add to a food
processor. Reserve the melon husk to
use as a serving bowl for the soupt.
Take two oranges and squeeze out
the juice and add to the melon in the
processor. Add diced cucumber (if using).
Whizz the melon flesh and orange juice
until smooth. Pour back into the bowls.
Can serve with thin slices of parma ham,
and a shake of lavender flower heads or
just sprinkle over 2 tbsp chopped fresh
mint.
The type of melon used will give the
colour to the soup.
Based on a recipe by James Tanner
james_tanner