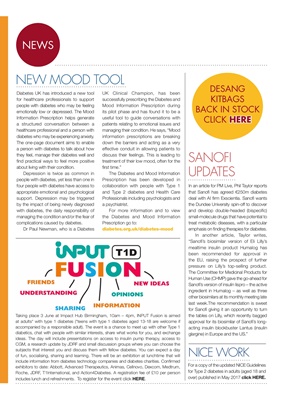 NEWS
NEW MOOD TOOL
Diabetes UK has introduced a new tool
for healthcare professionals to support
people with diabetes who may be feeling
emotionally low or depressed. The Mood
Information Prescription helps generate
a structured conversation between a
healthcare professional and a person with
diabetes who may be experiencing anxiety.
The one-page document aims to enable
a person with diabetes to talk about how
they feel, manage their diabetes well and
find practical ways to feel more positive
about living with their condition.
Depression is twice as common in
people with diabetes, yet less than one in
four people with diabetes have access to
appropriate emotional and psychological
support. Depression may be triggered
by the impact of being newly diagnosed
with diabetes, the daily responsibility of
managing the condition and/or the fear of
complications caused by diabetes.
Dr Paul Newman, who is a Diabetes
In an article for PM Live, Phil Taylor reports
that Sanofi has agrees €250m diabetes
deal with AI firm Exscientia. Sanofi wants
the Dundee University spin-off to discover
and develop double-headed (bispecific)
small-molecule drugs that have potential to
treat metabolic diseases, with a particular
emphasis on finding therapies for diabetes.
In another article, Taylor writes,
"Sanofi's biosimilar version of Eli Lilly's
mealtime insulin product Humalog has
been recommended for approval in
the EU, raising the prospect of further
pressure on Lilly's top-selling product.
The Committee for Medicinal Products for
Human Use (CHMP) gave the go-ahead for
Sanofi's version of insulin lispro - the active
ingredient in Humalog - as well as three
other biosimilars at its monthly meeting late
last week.The recommendation is sweet
for Sanofi giving it an opportunity to turn
the tables on Lilly, which recently bagged
approval for its biosimilar of Sanofi's longacting insulin blockbuster Lantus (insulin
glargine) in Europe and the US."
Taking place 3 June at Impact Hub Birmingham, 10am - 4pm, INPUT Fusion is aimed
at adults* with type 1 diabetes (*teens with type 1 diabetes aged 13-18 are welcome if
accompanied by a responsible adult). The event is a chance to meet up with other Type 1
diabetics, chat with people with similar interests, share what works for you, and exchange
ideas. The day will include presentations on access to insulin pump therapy, access to
CGM, a research update by JDRF and small discussion groups where you can choose the
subjects that interest you and discuss them with fellow diabetes. You can expect a day
of fun, socialising, sharing and learning. There will be an exhibition at lunchtime that will
include information from diabetes technology companies and diabetes charities. Confirmed
exhibitors to date: Abbott, Advanced Therapeutics, Animas, Cellnovo, Dexcom, Medtrum,
Roche, JDRF, T1International, and Action4Diabetes. A registration fee of £10 per person
includes lunch and refreshments. To register for the event click HERE.
NICE WORK
For a copy of the updated NICE Guidelines
for Type 2 diabetes, click HERE.
UK Clinical Champion, has been
successfully prescribing the Diabetes and
Mood Information Prescription' during
its pilot phase and has found it to be a
useful tool to guide conversations with
patients relating to emotional issues and
managing their condition. He says, "Mood
information prescriptions are breaking
down the barriers and acting as a very
effective conduit in allowing patients to
discuss their feelings. This is leading to
treatment of their low mood, often for the
first time."
The Diabetes and Mood Information
Prescription has been developed in
collaboration with people with Type 1
and Type 2 diabetes and Health Care
Professionals including psychologists and
a psychiatrist.
For more information and to view
the Diabetes and Mood Information
Prescription go to:
diabetes.org.uk/diabetes-mood
SANOFI
UPDATES
DESANG
KITBAGS
BACK IN STOCK
CLICK HERE