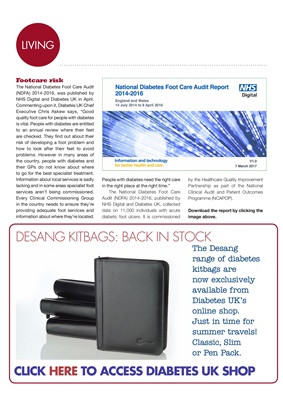 LIVINGLIVING
Footcare risk
The National Diabetes Foot Care Audit
(NDFA) 2014-2016, was published by
NHS Digital and Diabetes UK in April.
Commenting upon it, Diabetes UK Chief
Executive Chris Askew says, "Good
quality foot care for people with diabetes
is vital. People with diabetes are entitled
to an annual review where their feet
are checked. They find out about their
risk of developing a foot problem and
how to look after their feet to avoid
problems. However in many areas of
the country, people with diabetes and
their GPs do not know about where
to go for the best specialist treatment.
Information about local services is sadly
lacking and in some areas specialist foot
services aren't being commissioned.
Every Clinical Commissioning Group
in the country needs to ensure they're
providing adequate foot services and
information about where they're located.
People with diabetes need the right care
in the right place at the right time."
The National Diabetes Foot Care
Audit (NDFA) 2014-2016, published by
NHS Digital and Diabetes UK, collected
data on 11,000 individuals with acute
diabetic foot ulcers. It is commissioned
by the Healthcare Quality Improvement
Partnership as part of the National
Clinical Audit and Patient Outcomes
Programme (NCAPOP).
Download the report by clicking the
image above.
CLICK HERE TO ACCESS DIABETES UK SHOP
DESANG KITBAGS: BACK IN STOCK
The Desang
range of diabetes
kitbags are
now exclusively
available from
Diabetes UK's
online shop.
Just in time for
summer travels!
Classic, Slim
or Pen Pack.