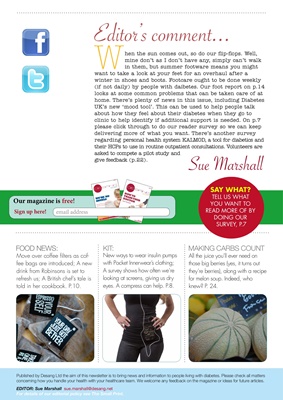 Published by Desang Ltd the aim of this newsletter is to bring news and information to people living with diabetes. Please check all matters
concerning how you handle your health with your healthcare team. We welcome any feedback on the magazine or ideas for future articles.
EDITOR: Sue Marshall sue.marshall@desang.net
For details of our editorial policy see The Small Print.
Move over coffee filters as coffee bags are introduced, A new
drink from Robinsons is set to
refresh us; A British chef's tale is
told in her bookbook. P.10.
Sue Marshall
MAKING CARBS COUNT
All the juice you'll ever need on
those big berries (yes, it turns out
they're berries), along with a recipe
for melon soup. Indeed, who
knew? P. 24.
When the sun comes out, so do our flip-flops. Well,
mine don't as I don't have any, simply can't walk
in them, but summer footware means you might
want to take a look at your feet for an overhaul after a
winter in shoes and boots. Footcare really ought to be weekly
9f not daily) for people with daibetes. Our foot report on
p.14 looks at some of the more common problems that can be
taken care of at home. There's plenty of news in this issue,
including Diabetes UK's new 'mood tool'. This can be used
to help people talk about how they feel about their diabetes
when they go to clinic to help identify if additional support
is needed. There's a call to action on p.7 - please do our
reader survey so we can keep delivering more of what you
want. There's another survey on p.22 regarding a personal health
system called KALMOD, a tool for diabetics and their HCP in routine outpatient
consultations. Volunteers are being asked
to compete a pilot study and give feedback.
I've done it, it's rather fun.
Editor's comment...
ISSUE 30
MAGAZINE
DESANG
PLUS • New Products • Groovy giveaways • News (for T1 and T2)
WE'RE NO
ANGELS
But business as usual is best for
diabetics at Christmas
MAKING
CARBS COUNT:
CHESTNUTS ROASTING
ON OPEN FIRES
Our magazine is free!
Sign up here! email address
KIT:
New ways to wear insulin pumps
with Pocketinner Wear's clothing;
A survey shows how often we're
spending per day looking at
screens, a compress can help. P.8.
FOOD NEWS:
SAY WHAT?
TELL US WHAT
YOU WANT TO
READ MORE OF BY
DOING OUR
SURVEY, P.7