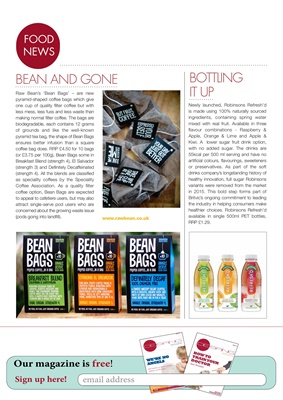 LIVINGLIVING
FOOD
NEWS
BOTTLING
IT UP
Newly launched, Robinsons Refresh'd
is made using 100% naturally sourced
ingredients, containing spring water
mixed with real fruit. Available in three
flavour combinations - Raspberry &
Apple, Orange & Lime and Apple &
Kiwi. A lower sugar fruit drink option,
with no added sugar. The drinks are
55kcal per 500 ml serving and have no
artificial colours, flavourings, sweeteners
or preservatives. As part of the soft
drinks company's longstanding history of
healthy innovation, full sugar Robinsons
variants were removed from the market
in 2015. This bold step forms part of
Britvic's ongoing commitment to leading
the industry in helping consumers make
healthier choices. Robinsons Refresh'd
available in single 500ml PET bottles,
RRP £1.29.
BEAN AND GONE
Raw Bean's 'Bean Bags' - are new
pyramid-shaped coffee bags which give
one cup of quality filter coffee but with
less mess, less fuss and less waste than
making normal filter coffee. The bags are
biodegradable, each contains 12 grams
of grounds and like the well-known
pyramid tea bag, the shape of Bean Bags
ensures better infusion than a square
coffee bag does. RRP £4.50 for 10 bags
(or £3.75 per 100g), Bean Bags some in
Breakfast Blend (strength 4), El Salvador
(strength 3) and Definitely Decaffeinated
(strength 4). All the blends are classified
as speciality coffees by the Speciality
Coffee Association. As a quality filter
coffee option, Bean Bags are expected
to appeal to cafetiere users, but may also
attract single-serve pod users who are
concerned about the growing waste issue
(pods going into landfill).
ISSUE 30
MAGAZINE
DESANG
PLUS • New Products • Groovy giveaways • News (for T1 and T2)
WE'RE NO
ANGELS
But business as usual is best for
diabetics at Christmas
MAKING
CARBS COUNT:
CHESTNUTS ROASTING
ON OPEN FIRES
Our magazine is free!
Sign up here! email address