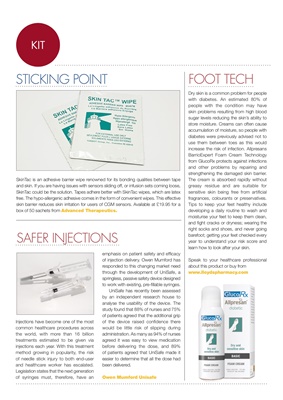 KIT
SAFER INJECTIONS
STICKING POINT FOOT TECH
Dry skin is a common problem for people
with diabetes. An estimated 80% of
people with the condition may have
skin problems resulting from high blood
sugar levels reducing the skin's ability to
store moisture. Creams can often cause
accumulation of moisture, so people with
diabetes were previously advised not to
use them between toes as this would
increase the risk of infection. Allpresans
BarrioExpert Foam Cream Technology
from GlucoRx protects against infections
and other problems by repairing and
strengthening the damaged skin barrier.
The cream is absorbed rapidly without
greasy residue and are suitable for
sensitive skin being free from artificial
fragrances, colourants or preservatives.
Tips to keep your feet healthy include
developing a daily routine to wash and
moisturise your feet to keep them clean,
and fight cracks or dryness; wearing the
right socks and shoes, and never going
barefoot; getting your feet checked every
year to understand your risk score and
learn how to look after your skin.
Speak to your healthcare professional
about this product or buy from
SkinTac is an adhesive barrier wipe renowned for its bonding qualities between tape
and skin. If you are having issues with sensors sliding off, or infusion sets coming loose,
SkinTac could be the solution. Tapes adhere better with SkinTac wipes, which are latex
free. The hypo-allergenic adhesive comes in the form of convenient wipes. This effective
skin barrier reduces skin irritation for users of CGM sensors. Available at £19.95 for a
box of 50 sachets from Advanced Therapeutics.
Injections have become one of the most
common healthcare procedures across
the world, with more than 16 billion
treatments estimated to be given via
injections each year. With this treatment
method growing in popularity, the risk
of needle stick injury to both end-user
and healthcare worker has escalated.
Legislation states that the next generation
of syringes must, therefore, have an
emphasis on patient safety and efficacy
of injection delivery. Owen Mumford has
responded to this changing market need
through the development of UniSafe, a
springless, passive safety device designed
to work with existing, pre-fillable syringes.
UniSafe has recently been assessed
by an independent research house to
analyse the usability of the device. The
study found that 88% of nurses and 75%
of patients agreed that the additional grip
of the device raised confidence there
would be little risk of slipping during
administration. As many as 94% of nurses
agreed it was easy to view medication
before delivering the dose, and 89%
of patients agreed that UniSafe made it
easier to determine that all the dose had
been delivered.
Owen Mumford Unisafe