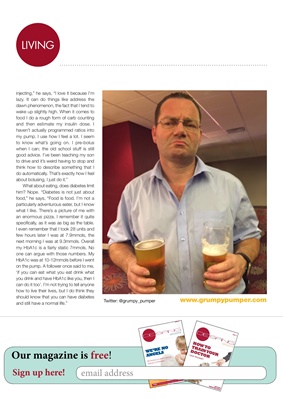 LIVINGLIVING
injecting," he says, "I love it because I'm
lazy. It can do things like address the
dawn phenomenon, the fact that I tend to
wake up slightly high. When it comes to
food I do a rough form of carb counting
and then estimate my insulin dose. I
haven't actually programmed ratios into
my pump. I use how I feel a lot. I seem
to know what's going on. I pre-bolus
when I can; the old school stuff is still
good advice. I've been teaching my son
to drive and it's weird having to stop and
think how to describe something that I
do automatically. That's exactly how I feel
about bolusing, I just do it."
What about eating, does diabetes limit
him? Nope. "Diabetes is not just about
food," he says, "Food is food. I'm not a
particularly adventurous eater, but I know
what I like. There's a picture of me with
an enormous pizza. I remember it quite
specifically, as it was as big as the table.
I even remember that I took 28 units and
few hours later I was at 7.9mmols, the
next morning I was at 9.3mmols. Overall
my HbA1c is a fairly static 7mmols. No
one can argue with those numbers. My
HbA1c was at 10-12mmols before I went
on the pump. A follower once said to me,
'if you can eat what you eat drink what
you drink and have HbA1c like you, then I
can do it too'. I'm not trying to tell anyone
how to live their lives, but I do think they
should know that you can have diabetes
and still have a normal life."
Twitter: @grumpy_pumper
ISSUE 30
MAGAZINE
DESANG
PLUS • New Products • Groovy giveaways • News (for T1 and T2)
WE'RE NO
ANGELS
But business as usual is best for
diabetics at Christmas
MAKING
CARBS COUNT:
CHESTNUTS ROASTING
ON OPEN FIRES
Our magazine is free!
Sign up here! email address