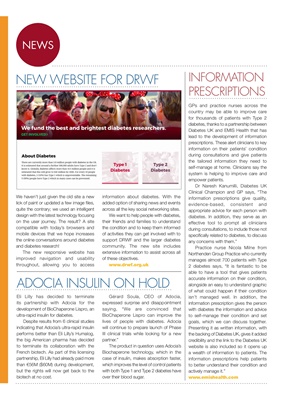 NEWS
NEW WEBSITE FOR DRWF INFORMATION
PRESCRIPTIONS
GPs and practice nurses across the
country may be able to improve care
for thousands of patients with Type 2
diabetes, thanks to a partnership between
Diabetes UK and EMIS Health that has
lead to the development of information
prescriptions. These alert clinicians to key
information on their patients' condition
during consultations and give patients
the tailored information they need to
self-manage at home. Clinicians say the
system is helping to improve care and
empower patients.
Dr Naresh Kanumilli, Diabetes UK Clinical
Champion and GP says, "The information
prescriptions give quality, evidencebased, consistent and appropriate
advice
for each person with diabetes. In addition,
they serve as an effective tool to prompt all
clinicians during consultations, to include
those not specifically related to diabetes,
to discuss any concerns with them."
Practice nurse Nicola Milne from
Northenden Group Practice who currently
manages almost 700 patients with Type
2 diabetes says, "It is fantastic to be
able to have a tool that gives patients
accurate information on their condition,
alongside an easy to understand graphic
of what could happen if their condition
isn't managed well. In addition, the
information prescription gives the person
with diabetes the information and advice
to self-manage their condition and set
goals, which we can discuss together.
Presenting it as written information, with
the backing of Diabetes UK, gives it added
credibility and the link to the Diabetes UK
website is also included so it opens up
a wealth of information to patients. The
information prescriptions help patients
to better understand their condition and
actively manage it."
We haven't just given the old site a new
lick of paint or updated a few image files,
quite the contrary; we used an intelligent
design with the latest technology focusing
on the user journey. The result? A site
compatible with today's browsers and
mobile devices that we hope increases
the online conversations around diabetes
and diabetes research!
The new responsive website has
improved navigation and usability
throughout, allowing you to access
information about diabetes. With the
added option of sharing news and events
across all the key social networking sites.
We want to help people with diabetes,
their friends and families to understand
the condition and to keep them informed
of activities they can get involved with to
support DRWF and the larger diabetes
community. The new site includes
extensive information to assist across all
of these objectives.
Eli Lilly has decided to terminate
its partnership with Adocia for the
development of BioChaperone Lispro, an
ultra-rapid insulin for diabetes.
Despite results from 6 clinical studies
indicating that Adocia's ultra-rapid insulin
performs better than Eli Lilly's Humalog,
the big American pharma has decided
to terminate its collaboration with the
French biotech. As part of this licensing
partnership, Eli Lilly had already paid more
than €56M ($60M) during development,
but the rights will now get back to the
biotech at no cost.
ADOCIA INSULIN ON HOLD
Gérard Soula, CEO of Adocia,
expressed surprise and disappointment
saying, "We are convinced that
BioChaperone Lispro can improve the
lives of people with diabetes. Adocia
will continue to prepare launch of Phase
III clinical trials while looking for a new
partner."
The product in question uses Adocia's
Biochaperone technology, which in the
case of insulin, makes absorption faster,
which improves the level of control patients
with both Type 1 and Type 2 diabetes have
over their blood sugar.