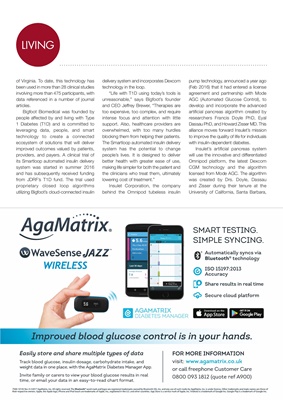 LIVINGLIVING
of Virginia. To date, this technology has
been used in more than 28 clinical studies
involving more than 475 participants, with
data referenced in a number of journal
articles.
Bigfoot Biomedical was founded by
people affected by and living with Type
1 Diabetes (T1D) and is committed to
leveraging data, people, and smart
technology to create a connected
ecosystem of solutions that will deliver
improved outcomes valued by patients,
providers, and payers. A clinical trial of
its Smartloop automated insulin delivery
system was started in summer 2016 and
has subsequently received funding from
JDRF and . The trial used proprietary
closed loop algorithms utilizing Bigfoot's
cloud-connected insulin delivery system
and incorporates Dexcom technology in
the loop.
"Life with T1D using today's tools is
unreasonable," says Bigfoot's founder
and CEO Jeffrey Brewer, "Therapies are
too expensive, too complex, and require
intense focus and attention with little
support. Also, healthcare providers are
overwhelmed, with too many hurdles
blocking them from helping their patients.
The Smartloop automated insulin delivery
system has the potential to change
people's lives. It is designed to deliver
better health with greater ease of use,
making life simpler for both the patient and
the clinicians who treat them, ultimately
lowering cost of treatment."
Insulet Corporation, the company
behind the Omnipod tubeless insulin
pump technology, announced a year ago
(Feb 2016) that it had entered a license
agreement and partnership with Mode
AGC (Automated Glucose Control), to
develop and incorporate the advanced
artificial pancreas algorithm created by
researchers Francis Doyle PhD, Eyal
Dassau PhD, and Howard Zisser MD. This
alliance moves forward Insulet's mission
to improve the quality of life for individuals
with insulin-dependent diabetes.
Insulet's artificial pancreas system
will use the innovative and differentiated
Omnipod platform, the latest Dexcom
CGM technology and the algorithm
licensed from Mode AGC. The algorithm
was created by Drs. Doyle, Dassau
and Zisser during their tenure at the
University of California, Santa Barbara,