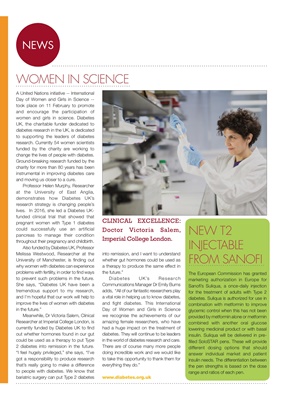 NEWS
WOMEN IN SCIENCE
A United Nations initiative -- International
Day of Women and Girls in Science --
took place on 11 February to promote
and encourage the participation of
women and girls in science. Diabetes
UK, the charitable funder dedicated to
diabetes research in the UK, is dedicated
to supporting the leaders of diabetes
research. Currently 54 women scientists
funded by the charity are working to
change the lives of people with diabetes.
Ground-breaking research funded by the
charity for more than 80 years has been
instrumental in improving diabetes care
and moving us closer to a cure.
Professor Helen Murphy, Researcher
at the University of East Anglia,
demonstrates how Diabetes UK's
research strategy is changing people's
lives. In 2016, she led a Diabetes UKfunded
clinical trial that showed that
pregnant women with Type 1 diabetes
could successfully use an artificial
pancreas to manage their condition
throughout their pregnancy and childbirth.
Also funded by Diabetes UK, Professor
Melissa Westwood, Researcher at the
University of Manchester, is finding out
why women with diabetes can experience
problems with fertility, in order to find ways
to prevent such problems in the future.
She says, "Diabetes UK have been a
tremendous support to my research,
and I'm hopeful that our work will help to
improve the lives of women with diabetes
in the future."
Meanwhile, Dr Victoria Salem, Clinical
Researcher at Imperial College London, is
currently funded by Diabetes UK to find
out whether hormones found in our gut
could be used as a therapy to put Type
2 diabetes into remission in the future.
"I feel hugely privileged," she says, "I've
got a responsibility to produce research
that's really going to make a difference
to people with diabetes. We know that
bariatric surgery can put Type 2 diabetes
into remission, and I want to understand
whether gut hormones could be used as
a therapy to produce the same effect in
the future."
Diabetes UK's Research
Communications Manager Dr Emily Burns
adds, "All of our fantastic researchers play
a vital role in helping us to know diabetes,
and fight diabetes. This International
Day of Women and Girls in Science
we recognise the achievements of our
amazing female researchers, who have
had a huge impact on the treatment of
diabetes. They will continue to be leaders
in the world of diabetes research and care.
There are of course many more people
doing incredible work and we would like
to take this opportunity to thank them for
everything they do."
CLINICAL EXCELLENCE:
Doctor Victoria Salem,
Imperial College London.
NEW T2
INJECTABLE
FROM SANOFI
The European Commission has granted
marketing authorization in Europe for
Sanofi's Suliqua, a once-daily injection
for the treatment of adults with Type 2
diabetes. Suliqua is authorized for use in
combination with metformin to improve
glycemic control when this has not been
provided by metformin alone or metformin
combined with another oral glucose
lowering medicinal product or with basal
insulin. Suliqua will be delivered in prefilled SoloSTAR
pens. These will provide
different dosing options that should
answer individual market and patient
insulin needs. The differentiation between
the pen strengths is based on the dose
range and ratios of each pen.