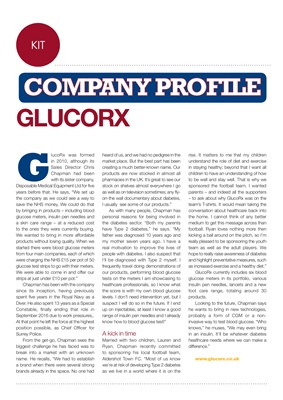 KIT
COMPANY PROFILE
GLUCORX
GlucoRx was formed
in 2010, although its
Sales Director Chris
Chapman had been
with its sister company,
Disposable Medical Equipment Ltd for five
years before that. He says, "We set up
the company as we could see a way to
save the NHS money. We could do that
by bringing in products - including blood
glucose meters, insulin pen needles and
a skin care range - at a reduced cost
to the ones they were currently buying.
We wanted to bring in more affordable
products without losing quality. When we
started there were blood glucose meters
from four main companies, each of which
were charging the NHS £15 per pot of 50
glucose test strips to go with their meters.
We were able to come in and offer our
strips at just under £10 per pot."
Chapman has been with the company
since its inception, having previously
spent five years in the Royal Navy as a
Diver. He also spent 13 years as a Special
Constable, finally ending that role in
September 2016 due to work pressures,.
At that point he left the force at the highest
position possible, as Chief Officer for
Surrey Police.
From the get-go, Chapman sees the
biggest challenge he has faced was to
break into a market with an unknown
name. He recalls, "We had to establish
a brand when there were several strong
brands already in the space. No one had
heard of us, and we had no pedigree in the
market place. But the best part has been
creating a much better-known name. Our
products are now stocked in almost all
pharmacies in the UK. It's great to see our
stock on shelves almost everywhere I go
as well as on television sometimes; any flyon-the wall documentary about diabetes,
I usually see some of our products."
As with many people, Chapman has
personal reasons for being involved in
the diabetes sector. "Both my parents
have Type 2 diabetes," he says. "My
father was diagnosed 10 years ago and
my mother seven years ago. I have a
real motivation to improve the lives of
people with diabetes. I also suspect that
I'll be diagnosed with Type 2 myself. I
frequently travel doing demonstrations of
our products, performing blood glucose
tests on the meters I am showcasing to
healthcare professionals, so I know what
the score is with my own blood glucose
levels. I don't need intervention yet, but I
suspect I will do so in the future. If I end
up on injectables, at least I know a good
range of insulin pen needles and I already
know how to blood glucose test!"
A kick in time
Married with two children, Lauren and
Ryan, Chapman recently committed
to sponsoring his local football team,
Aldershot Town FC. "Most of us know
we're at risk of developing Type 2 diabetes
as we live in a world where it is on the
rise. It matters to me that my children
understand the role of diet and exercise
in staying healthy; beyond that I want all
children to have an understanding of how
to be well and stay well. That is why we
sponsored the football team. I wanted
parents - and indeed all the supporters
- to ask about why GlucoRx was on the
team's T-shirts. It would mean taking the
conversation about healthcare back into
the home. I cannot think of any better
medium to get this message across than
football. Ryan loves nothing more then
kicking a ball around on the pitch, so I'm
really pleased to be sponsoring the youth
team as well as the adult players. We
hope to really raise awareness of diabetes
and highlight preventative measures, such
as increased exercise and a healthy diet."
GlucoRx currently includes six blood
glucose meters in its portfolio, various
insulin pen needles, lancets and a new
foot care range, totaling around 30
products.
Looking to the future, Chapman says
he wants to bring in new technologies,
probably a form of CGM or a noninvasive way to test blood glucose. "Who
knows," he muses, "We may even bring
in an insulin. It'll be whatever diabetes
healthcare needs where we can make a
difference."