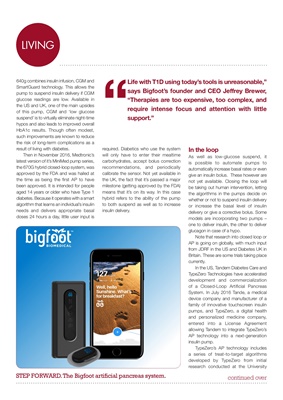 LIVINGLIVING
continued over
was 'sensor-augmented'. Medtronic's
640g combines insulin infusion, CGM and
SmartGuard technology. This allows the
pump to suspend insulin delivery if CGM
glucose readings are low. Available in
the US and UK, one of the main upsides
of this pump, CGM and 'low glucose
suspend' is to virtually eliminate night-time
hypos and also leads to improved overall
HbA1c results. Though often modest,
such improvements are known to reduce
the risk of long-term complications as a
result of living with diabetes.
Then in November 2016, Medtronic's
latest version of it's MiniMed pump series,
the 670G hybrid closed-loop system, was
approved by the FDA and was hailed at
the time as being the first AP to have
been approved. It is intended for people
aged 14 years or older who have Type
1 diabetes. Because it operates with a
smart algorithm that learns an individual's
insulin needs and delivers appropriate
basal doses 24 hours a day, little user input
is required. Diabetics who use the system
will only have to enter their mealtime
carbohydrates, accept bolus correction
recommendations, and periodically
calibrate the sensor. Not yet available in
the UK, the fact that it's passed a major
milestone (getting approved by the FDA)
means that it's on its way. In this case
hybrid refers to the ability of the pump
to both suspend as well as to increase
insulin delivery.
STEP FORWARD. The Bigfoot artificial pancreas system.
In the loop
As well as low-glucose suspend, it
is possible to automate pumps to
automatically increase basal rates or even
give an insulin bolus. These however are
not yet available. Closing the loop will
be taking out human intervention, letting
the algorithms in the pumps decide on
whether or not to suspend insulin delivery
or increase the basal level of insulin
delivery or give a corrective bolus. Some
models are incorporating two pumps -
one to deliver insulin, the other to deliver
glucagon in case of a hypo.
Note that research into closed loop or
AP is going on globally, with much input
from JDRF in the US and Diabetes UK in
Britain. These are some trials taking place
currently.
In the US, Tandem Diabetes Care and
TypeZero Technologies have accelerated
development and commercialization
of a Closed-Loop Artificial Pancreas
System. In July 2016 Tande, a medical
device company and manufacturer of a
family of innovative touchscreen insulin
pumps, and TypeZero, a digital health
and personalized medicine company,
entered into a License Agreement
allowing Tandem to integrate TypeZero's
AP technology into a next-generation
insulin pump.
TypeZero's AP technology includes
a series of treat-to-target algorithms
developed by TypeZero from initial
research conducted at the University
"
Life with T1D using today's tools is unreasonable,"
says Bigfoot's founder and CEO Jeffrey Brewer,
"Therapies are too expensive, too complex, and
require intense focus and attention with little
support."