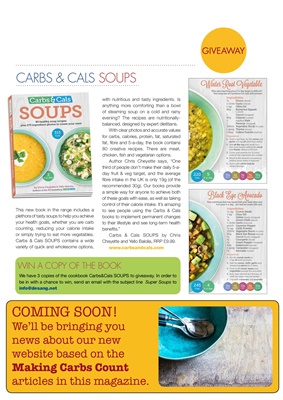 CARBS & CALS SOUPS
This new book in the range includes a
plethora of tasty soups to help you achieve
your health goals, whether you are carb
counting, reducing your calorie intake
or simply trying to eat more vegetables.
Carbs & Cals SOUPS contains a wide
variety of quick and wholesome options,
We have 3 copies of the cookbook Carbs&Cals SOUPS to giveaway. In order to
be in with a chance to win, send an email with the subject line Super Soups to
WIN A COPY OF THE BOOK
GIVEAWAY
with nutritious and tasty ingredients. Is
anything more comforting than a bowl
of steaming soup on a cold and rainy
evening? The recipes are nutritionallybalanced, designed by expert dietitians.
With clear photos and accurate values
for carbs, calories, protein, fat, saturated
fat, fibre and 5-a-day, the book contains
80 creative recipes. There are meat,
chicken, fish and vegetarian options.
Author Chris Cheyette says, "One
third of people don't make their daily 5-aday fruit & veg target, and the average
fibre intake in the UK is only 19g (of the
recommended 30g). Our books provide
a simple way for anyone to achieve both
of these goals with ease, as well as taking
control of their calorie intake. It's amazing
to see people using the Carbs & Cals
books to implement permanent changes
to their lifestyle and see long-term health
benefits."
Carbs & Cals SOUPS by Chris
Cheyette and Yello Balolia, RRP £9.99.
COMING SOON!
We'll be bringing you
news about our new
website based on the
Making Carbs Count
articles in this magazine.