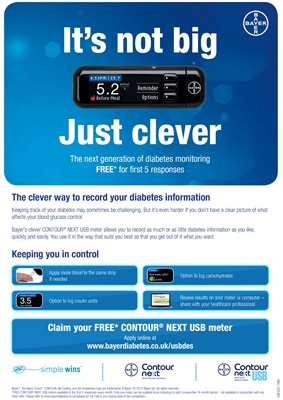 It's not big
Just clever
The next generation of diabetes monitoring
FREE* for first 5 responses
The clever way to record your diabetes information
Keeping track of your diabetes may sometimes be challenging. But it's even harder if you don't have a clear picture of what
affects your blood glucose control.
Bayer's clever CONTOUR® NEXT USB meter allows you to record as much or as little diabetes information as you like,
quickly and easily. You use it in the way that suits you best so that you get out of it what you want.
Keeping you in control
Apply more blood to the same strip
Option to log carbohydrates
if needed
Review results on your meter or computer –
Option to log insulin units
share with your healthcare professional
Claim your FREE* CONTOUR® NEXT USB meter
Apply online at
www.bayerdiabetes.co.uk/usbdes
®
Blood Glucose
Monitoring System
USB DES 13NC
Bayer®, the Bayer Cross®, CONTOUR, No Coding, and the simplewins logo are trademarks of Bayer. © 2013 Bayer plc. All rights reserved.
*FREE CONTOUR® NEXT USB meters available to the first 5 responses every month. Only one meter can be supplied to an individual in each consecutive 18-month period - not available in conjunction with any
other offer. Please refer to www.bayerdiabetes.co.uk/usbdes for full Ts&Cs and closing date of the competition.