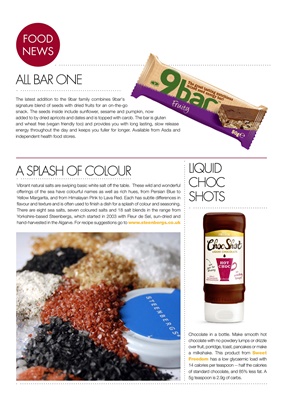 food
LIVING
NEWS
all bar oNE
the latest addition to the 9bar family combines 9bar's
signature blend of seeds with dried fruits for an on-the-go
snack. The seeds inside include sunflower, sesame and pumpkin, now
added to by dried apricots and dates and is topped with carob. the bar is gluten
and wheat free (vegan friendly too) and provides you with long lasting, slow release
energy throughout the day and keeps you fuller for longer. available from asda and
independent health food stores.
a SplaSh oF colour liquiD
vibrant natural salts are swiping basic white salt off the table. these wild and wonderful choc
ShotS
offerings of the sea have colourful names as well as rich hues, from Persian blue to
Yellow Margarita, and from Himalayan Pink to Lava Red. Each has subtle differences in
flavour and texture and is often used to finish a dish for a splash of colour and seasoning.
There are eight sea salts, seven coloured salts and 18 salt blends in the range from
Yorkshire-based Steenbergs, which started in 2003 with Fleur de Sel, sun-dried and
hand-harvested in the algarve. For recipe suggestions go to www.steenbergs.co.uk
Chocolate in a bottle. Make smooth hot
chocolate with no powdery lumps or drizzle
over fruit, porridge, toast, pancakes or make
a milkshake. this product from Sweet
Freedom has a low glycaemic load with
14 calories per teaspoon -- half the calories
of standard chocolate, and 85% less fat. A
5g teaspoon is 2.9g of carbs.