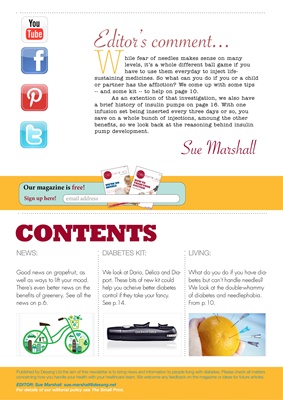 Editor's comment...
W hile fear of needles makes sense on many
levels, it's a whole different ball game if you
have to use them everyday to inject life-
sustaining medicines. So what can you do if you or a child
or partner has the affliction? We come up with some tips
-- and some kit -- to help on p.
As an extention of that investigation, we also haev
a brief history of insulin pumps on p. . With one infusion
set being inserted every three days or so, you save on
a whole bunch of injections, amoung the other benefits,
so we look back at the reasoning behind insulin pump
development.
Sue Marshall
30
ISSUE
NG
SA magazin
e
DE
e NO
Our magazine is free!
we'r LS
ANGe t for bes
usual is
iness as
But bus mas
at Christ
diabetics
Sign up here! email address iNG
mAk S cOuNt:
cArb g stin and T2)
uts roa s (for T1
chestn fires aways
• New
n vy give
on ope • Groo
Products
• New
PLUS
contents
neWs: Diabetes kit: Living:
Good news on grapefruit, and We look at Dario, Delica and What do you do if you have dia-
even better news on greenery on Diaport. See p.14. betes but can't handle needles?
p.6. We look at the double-whammy
of diabetes and needlephobia.
From p.8.
Published by Desang Ltd the aim of this newsletter is to bring news and information to people living with diabetes. Please check all matters
concerning how you handle your health with your healthcare team. We welcome any feedback on the magazine or ideas for future articles.
Editor: Sue Marshall sue.marshall@desang.net
For details of our editorial policy see the Small Print.