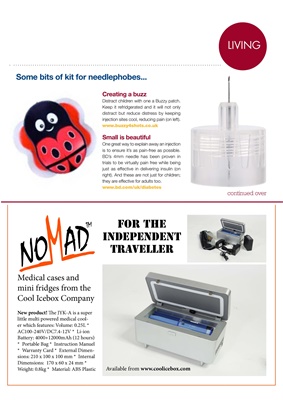 liviNg
Some bits of kit for needlephobes...
Creating a buzz
Distract children with one a buzzy patch.
keep it refridgerated and it will not only
distract but reduce distress by keeping
injection sites cool, reducing pain (on left).
www.buzzy4shots.co.uk
Small is beautiful
One great way to explain away an injection
is to ensure it's as pain-free as possible.
BD's 4mm needle has been proven in
trials to be virtually pain free while being
just as effective in delivering insulin (on
right). and these are not just for children;
they are effective for adults too.
www.bd.com/uk/diabetes
continued over
For the
independent
traveller
Medical cases and
mini fridges from the
Cool Icebox Company
New product! The JYK-A is a super
little multi powered medical cool-
er which features: Volume: 0.25L *
AC100-240V/DC7.4-12V * Li-ion
Battery: 4000+12000mAh (12 hours)
* Portable Bag * Instruction Manuel
* Warranty Card * External Dimen-
sions: 210 x 100 x 100 mm * Internal
Dimensions: 170 x 60 x 24 mm *
Weight: 0.8kg * Material: ABS Plastic Available from www.coolicebox.com