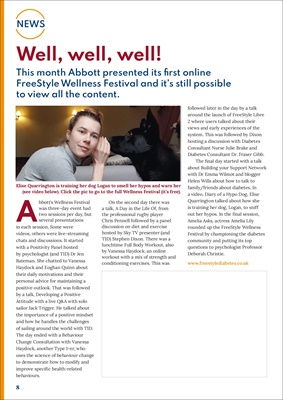 8
NEWS
Well, well, well!
This month Abbott presented its first online
FreeStyle Wellness Festival and it's still possible to
view all the content.
Abbott's Wellness Festival
was three-day event had
two sessions per day, but
several presentations
in each session. Some were
videos, others were live-streaming
chats and discussions. It started
with a Positivity Panel hosted
by psychologist (and T1D) Dr Jen
Bateman. She chatted to Vanessa
Haydock and Eoghan Quinn about
their daily motivations and their
personal advice for maintaining a
positive outlook. That was followed
by a talk, Developing a Positive
Attitude with a live Q&A with solo
sailor Jack Trigger. He talked about
the importance of a positive mindset
and how he handles the challenges of
sailing around the world with Type
1 diabetes. The day ended with a
Behaviour Change Consultation with
Vanessa Haydock, another Type 1-er,
who uses the science of behaviour
change to demonstrate how to
modify and improve specific healthrelated
behaviours.
On the second day there was a
talk, A Day in the Life Of, from the
professional rugby player Chris
Pennell where you got a glimpse of
one of his normal days, showing what
he eats and how he trains/plays. This
was followed by a panel discussion
on diet and exercise hosted by Sky
TV presenter (and T1D) Stephen
Dixon. There was a lunchtime Full
Body Workout, also by Vanessa
Haydock, an online workout with
a mix of strength and conditioning
exercises. This was followed later in
the day by a talk around the launch of
FreeStyle Libre 2 in the UK entitled,
Caring for Your Mind, Body & Soul,
where users talked about their views
and early experiences of the system.
This was followed by Dixon hosting a
discussion with Diabetes Consultant
Nurse Julie Brake and Diabetes
Consultant Dr. Fraser Gibb.
The final day started with a talk
about Building your Support Network
with Dr Emma Wilmot, blogger
Helen Wills and a representative
from Diabetes UK, about how to talk
to family/friends about diabetes
and building your support network.
Then it was time to watch a film,
Diary of a Hypo Dog, explaining how
to go about training a dog to sense
changes in glucose levels. Influencer
Elise Quarrington talked about how
she is training her dog, Logan, to sniff
out her hypos. In the final session,
Amelia Asks, actress Amelia Lily
rounded up the FreeStyle Wellness
Festival by championing the diabetes
community and putting its top
questions to psychologist Professor
Deborah Christie.
It's free to log on, so take a look
and take your pic of what's there
to see.
Elise Quarrington is training her dog Logan to smell her hypos and warn her.