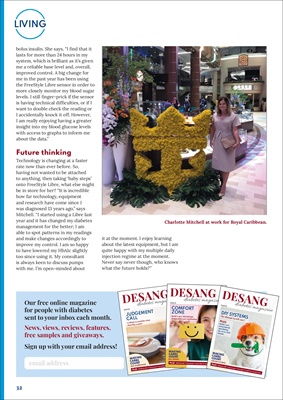 32
LIVING
bolus insulin. She says, "I find that it
lasts for more than 24 hours in my
system, which is brilliant as it's given
me a reliable base level and, overall,
improved control. A big change for
me in the past year has been using
the FreeStyle Libre sensor in order to
more closely monitor my blood sugar
levels. I still finger-prick if the sensor
is having technical difficulties, or if I
want to double check the reading or
I accidentally knock it off. However,
I am really enjoying having a greater
insight into my blood glucose levels
with access to graphs to inform me
about the data."
Future thinking
Technology is changing at a faster
rate now than ever before. So,
having not wanted to be attached
to anything, then taking 'baby steps'
onto FreeStyle Libre, what else might
be in store for her? "It is incredible
how far technology, equipment
and research have come since I
was diagnosed 13 years ago," says
Mitchell. "I started using a Libre last
year and it has changed my diabetes
management for the better; I am
able to spot patterns in my readings
and make changes accordingly to
improve my control. I am so happy
to have lowered my HbA1c slightly
too since using it. My consultant
is always keen to discuss pumps
Charlotte Mitchell at work for Royal Caribbean.
with me. I'm open-minded about
it at the moment. I enjoy learning
about the latest equipment, but I am
quite happy with my multiple daily
injection regime at the moment.
Never say never though, who knows
what the future holds?"
Our free online magazine
for people with diabetes
sent to your inbox each month.
News, views, reviews, features,
free samples and giveaways.
Sign up with your email address!
ISSUE 115
MAKING
CARBS
COUNT
MILK ALTERNATIVES
PLUS Diabetes kit • Giveaways • News (for T1 and T2) • Food News
JUDGEMENT
CALL
10 things to consider when
choosing a meter
PLUS
Who's Zooming who?
An update on digital
health delivery
ISSUE 111
MAKING
CARBS
COUNT
BELL PEPPERS
PLUS Diabetes kit • Giveaways • News (for T1 and T2) • Food News
COMFORT
ZONE
Roche's new micropump:
designed for user satisfaction
PLUS
Dexcom's next
generation G7 sensor ISSUE 119
MAKING
CARBS
COUNT
LUSCIOUS LYCHEES
PLUS Diabetes kit • Giveaways • News (for T1 and T2) • Food News
DIY SYSTEMS
The ultimate in self-care?
PLUS
Roche's new
meter launch:
introducing
the Accu-Chek
Instant
email address