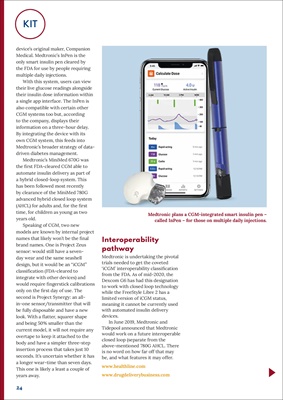 24KIT
device's original maker, Companion
Medical. Medtronic's InPen is the
only smart insulin pen cleared by
the FDA for use by people requiring
multiple daily injections.
With this system, users can view
their live glucose readings alongside
their insulin dose information within
a single app interface. The InPen is
also compatible with certain other
CGM systems too but, according
to the company, displays their
information on a three-hour delay.
By integrating the device with its
own CGM system, this feeds into
Medtronic's broader strategy of datadriven
diabetes management.
Medtronic's MiniMed 670G was
the first FDA-cleared CGM able to
automate insulin delivery as part of
a hybrid closed-loop system. This
has been followed most recently
by clearance of the MiniMed 780G
advanced hybrid closed loop system
(AHCL) for adults and, for the first
time, for children as young as two
years old.
Speaking of CGM, two new
models are known by internal project
names that likely won't be the final
brand names. One is Project Zeus
sensor: would still have a sevenday
wear and the same seashell
design, but it would be an "iCGM"
classification (FDA-cleared to
integrate with other devices) and
would require fingerstick calibrations
only on the first day of use. The
second is Project Synergy: an allin-one sensor/transmitter
that will
be fully disposable and have a new
look. With a flatter, squarer shape
and being 50% smaller than the
current model, it will not require any
overtape to keep it attached to the
body and have a simpler three-step
insertion process that takes just 10
seconds. It's uncertain whether it has
a longer wear-time than seven days.
This one is likely a least a couple of
years away.
Interoperability
pathway
Medtronic is undertaking the pivotal
trials needed to get the coveted
'iCGM' interoperability classification
from the FDA. As of mid-2020, the
Dexcom G6 has had this designation
to work with closed loop technology
while the FreeStyle Libre 2 has a
limited version of iCGM status,
meaning it cannot be currently used
with automated insulin delivery
devices.
In June 2019, Medtronic and
Tidepool announced that Medtronic
would work on a future interoperable
closed loop (separate from the
above-mentioned 780G AHCL. There
is no word on how far off that may
be, and what features it may offer.
Medtronic plans a CGM-integrated smart insulin pen -
called InPen - for those on multiple daily injections.