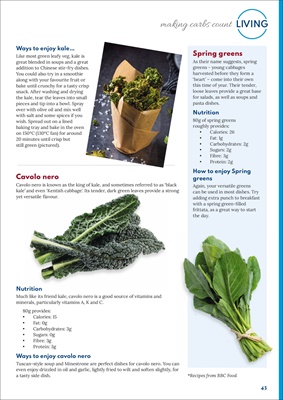 43
LIVING
making carbs count
Ways to enjoy kale…
Like most green leafy veg, kale is
great blended in soups and a great
addition to Chinese stir-fry dishes.
You could also try in a smoothie
along with your favourite fruit or
bake until crunchy for a tasty crisp
snack. After washing and drying
the kale, tear the leaves into small
pieces and tip into a bowl. Spray
over with olive oil and mix well
with salt and some spices if you
wish. Spread out on a lined
baking tray and bake in the oven
on 150ºC (130ºC fan) for around
20 minutes until crisp but
still green (pictured).
Cavolo nero
Cavolo nero is known as the king of kale, and sometimes referred to as 'black
kale' and even 'Kentish cabbage'. Its tender, dark green leaves provide a strong
yet versatile flavour.
Spring greens
As their name suggests, spring
greens - young cabbages
harvested before they form a
'heart' - come into their own
this time of year. Their tender,
loose leaves provide a great base
for salads, as well as soups and
pasta dishes.
Nutrition
80g of spring greens
roughly provides:
• Calories: 26
• Fat: 1g
• Carbohydrates: 2g
• Sugars: 2g
• Fibre: 3g
• Protein: 2g
How to enjoy Spring
greens
Again, your versatile greens
can be used in most dishes. Try
adding extra punch to breakfast
with a spring green-filled
frittata, as a great way to start
the day.
Nutrition
Much like its friend kale, cavolo nero is a good source of vitamins and
minerals, particularly vitamins A, K and C.
80g provides:
• Calories: 15
• Fat: 0g
• Carbohydrates: 3g
• Sugars: 0g
• Fibre: 3g
• Protein: 3g
Ways to enjoy cavolo nero
Tuscan-style soup and Minestrone are perfect dishes for cavolo nero. You can
even enjoy drizzled in oil and garlic, lightly fried to wilt and soften slightly, for
a tasty side dish. *Recipes from BBC Food