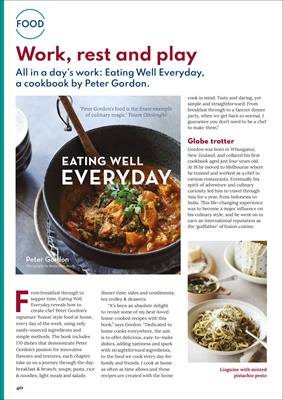 40
FOOD
Work, rest and play
All in a day's work: Eating Well Everyday, a cookbook
by Peter Gordon.
From breakfast through to
supper time, Eating Well
Everyday reveals how to
create chef Peter Gordon's
signature 'fusion' style food at home,
every day of the week, using only
easily-sourced ingredients and
simple methods. The book includes
170 dishes that demonstrate Peter
Gordon's passion for innovative
flavours and textures, each chapter
take us on a journey through the day:
breakfast & brunch; soups; pasta, rice
& noodles; light meals and salads;
dinner time; sides and condiments;
tea trolley & desserts.
"It's been an absolute delight
to revisit some of my best-loved
home-cooked recipes with this
book," says Gordon. "Dedicated to
home cooks everywhere, the aim
is to offer delicious, easy-to-make
dishes, adding tastiness and spark
with straightforward ingredients,
to the food we cook every day for
family and friends. I cook at home
as often as time allows and these
recipes are created with the home
cook in mind. Tasty and daring, yet
simple and straightforward. From
breakfast through to a fancier dinner
party, when we get back to normal. I
guarantee you don't need to be a chef
to make them."
Globe trotter
Gordon was born in Whanganui,
New Zealand, and collated his first
cookbook aged just four years old.
At 18 he moved to Melbourne where
he trained and worked as a chef in
various restaurants. Eventually his
spirit of adventure and culinary
curiosity led him to travel through
Asia for a year, from Indonesia to
India. This life-changing experience
was to become a major influence on
his culinary style, and he went on to
earn an international reputation as
the 'godfather' of fusion cuisine.
Linguine with minted
pistachio pesto