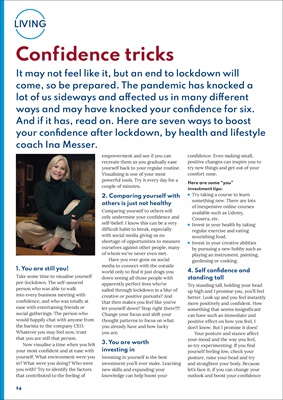 14
LIVING
Confidence tricks
It may not feel like it, but an end to lockdown will
come, so be prepared. The pandemic has knocked a
lot of us sideways and affected us in many different
ways and may have knocked your confidence for six.
And if it has, read on. Here are seven ways to boost
your confidence after lockdown, by health and lifestyle
coach Ina Messer.
1. You are still you!
Take some time to visualise yourself
pre-lockdown. The self-assured
person who was able to walk
into every business meeting with
confidence, and who was totally at
ease with entertaining friends or
social gatherings. The person who
would happily chat with anyone from
the barista to the company CEO.
Whatever you may feel now, trust
that you are still that person.
Now visualise a time when you felt
your most confident and at ease with
yourself. What environment were you
in? What were you doing? Who were
you with? Try to identify the factors
that contributed to the feeling of
empowerment and see if you can
recreate them as you gradually ease
yourself back to your regular routine.
Visualising is one of your most
powerful tools. Try it every day for a
couple of minutes.
2. Comparing yourself with
others is just not healthy
Comparing yourself to others will
only undermine your confidence and
self-belief. I know this can be a very
difficult habit to break, especially
with social media giving us no
shortage of opportunities to measure
ourselves against other people, many
of whom we've never even met.
Have you ever gone on social
media to connect with the outside
world only to find it just drags you
down seeing all those people with
apparently perfect lives who've
sailed through lockdown in a blur of
creative or positive pursuits? And
that then makes you feel like you've
let yourself down? Stop right there!!!!
Change your focus and shift your
thought patterns to focus on what
you already have and how lucky
you are.
3. You are worth
investing in
Investing in yourself is the best
investment you'll ever make. Learning
new skills and expanding your
knowledge can help boost your
confidence. Even making small,
positive changes can inspire you to
try new things and get out of your
comfort zone.
Here are some "you"
investment tips:
Try taking a course to learn
something new. There are lots
of inexpensive online courses
available such as Udemy,
Cousera, etc.
Invest in your health by taking
regular exercise and eating
nourishing food.
Invest in your creative abilities
by pursuing a new hobby such as
playing an instrument, painting,
gardening or cooking.
4. Self confidence and
standing tall
Try standing tall, holding your head
up high and I promise you, you'll feel
better. Look up and you feel instantly
more positively and confident. How
something that seems insignificant
can have such an immediate and
positive effect on how you feel, I
don't know. But I promise it does!
Your posture and stance affect
your mood and the way you feel,
so try experimenting. If you find
yourself feeling low, check your
posture, raise your head and try
and straighten your body. Because
let's face it, if you can change your
outlook and boost your confidence