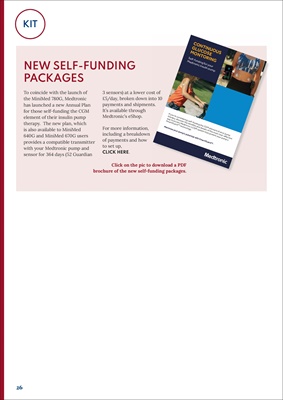 26KIT
NEW SELF-FUNDING
PACKAGES
Click on the pic
to download a
brochure of the
new self-funding
packages.
To coincide with the launch of
the MiniMed 780G, Medtronic
has launched a new Annual Plan
for those self-funding the CGM
element of their insulin pump
therapy. The new plan, which is
also available to MiniMed 640G
and MiniMed 670G users provides
a compatible transmitter with
your Medtronic pump and sensor
for 364 days (52 Guardian 3
sensors) at a lower cost of £5/day,
broken down into 10 payments
CONTINUOUS
GLUCOSE
MONTORING
Self-funding for your
Medtronic insulin pump
If you're considering self-funding the CGM element of your pump
therapy, discover the benefits and details of the most cost-effective
way to access Medtronic's CGM system that powers your pump's
SmartGuard™ technology.
Maximise your pump's potential with SmartGuard™.
and shipments. It's available
through Medtronic's eShop
- for more information,
including a breakdown of
payments and how to set
up, CLICK HERE.