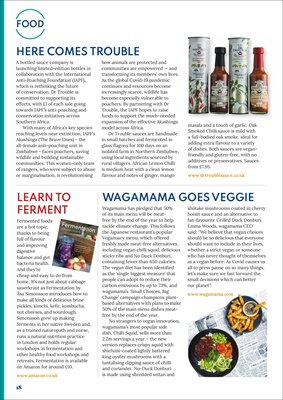 18
FOOD
LEARN TO
FERMENT
Fermented foods
are a hot topic,
thanks to being
full of flavour
and improving
digestive
balance and gut
bacteria health.
And they're
cheap and easy to do from
home. It's not just about cabbage
sauerkraut as Fermentation by
Åsa Simonsson introduces how to
make all kinds of delicious brine
pickles, kimchi, kefir, kombucha,
nut cheeses, and sourdough.
Simonsson grew up making
ferments in her native Sweden and,
as a trained naturopath and nurse,
runs a natural nutrition practice
in London and holds regular
workshops in fermentation and
other healthy food workshops and
retreats. Fermentation is available
on Amazon for around £10.
WAGAMAMA GOES VEGGIE
Wagamama has pledged that 50%
of its main menu will be meatfree
by the end of the year to help
tackle climate change. This follows
the Japanese restaurant's popular
Veganuary menu, which offered
freshly made meat-free alternatives,
including vegan chilli squid, delicious
sticky ribs and No Duck Donburi,
containing fewer than 650 calories.
The vegan diet has been identified
as the 'single biggest measure' that
people can adopt to reduce their
carbon emissions by up to 73%, and
wagamama's 'Small Choices, Big
Change' campaign champions plantbased
alternatives with plans to make
50% of the main menu dishes meatfree
by the end of the year.
No strangers to vegan innovation,
wagamama's most popular side
dish, Chilli Squid, sells more than
2.2m servings a year - the new
version replaces crispy squid with
shichimi-coated lightly battered
king oyster mushrooms with a
tantalising dipping sauce of chilli
and coriander. No-Duck Donburi
is made using shredded seitan and
shiitake mushrooms coated in cherry
hoisin sauce and an alternative to
fan-favourite Grilled Duck Donburi.
Emma Woods, wagamama CEO
said: "We believe that vegan choices
should be so delicious that everyone
should want to include in their lives,
whether a strict vegan or someone
who has never thought of themselves
as a vegan before. As Covid causes us
all to press pause on so many things,
let's make sure we fast forward the
small decisions which can better
our planet".
HERE COMES TROUBLE
A bottled sauce company is
launching limited-edition bottles in
collaboration with the International
Anti-Poaching Foundation (IAPF),
which is rethinking the future
of conservation. Dr Trouble is
committed to supporting its
efforts, with £1 of each sale going
towards IAPF's anti-poaching and
conservation initiatives across
Southern Africa.
With many of Africa's key species
reaching levels near extinction, IAPF's
Akashinga (The Brave Ones) - the
all-female anti-poaching unit in
Zimbabwe - faces poachers, saving
wildlife and building sustainable
communities. This women-only team
of rangers, who were subject to abuse
or marginalisation, is revolutionising
how animals are protected and
communities are empowered - and
transforming its members' own lives.
As the global Covid-19 pandemic
continues and resources become
increasingly scarce, wildlife has
become especially vulnerable to
poachers. By partnering with Dr
Trouble, the IAPF hopes to raise
funds to support the much-needed
expansion of the effective Akashinga
model across Africa.
Dr Trouble sauces are handmade
in small batches and fermented in
glass flagons for 100 days on an
isolated farm in Northern Zimbabwe,
using local ingredients sourced by
rural villagers. African Lemon Chilli
is medium heat with a clean lemon
flavour and notes of ginger, mango
masala and a touch of garlic. Oak
Smoked Chilli sauce is mild with
a full-bodied oak smoke, ideal for
adding extra flavour to a variety
of dishes. Both sauces are veganfriendly
and gluten-free, with no
additives or preservatives. Sauces
from £7.95.