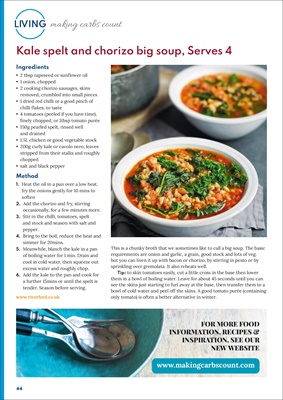 44
LIVING making carbs count
FOR MORE FOOD
INFORMATION, RECIPES &
INSPIRATION, SEE OUR
NEW WEBSITE
Ingredients
• 2 tbsp rapeseed or sunflower oil
• 1 onion, chopped
• 2 cooking chorizo sausages, skins
removed, crumbled into small pieces
• 1 dried red chilli or a good pinch of
chilli flakes, to taste
• 4 tomatoes (peeled if you have time),
finely chopped, or 1tbsp tomato purée
• 150g pearled spelt, rinsed well
and drained
• 1.5L chicken or good vegetable stock
• 200g curly kale or cavolo nero, leaves
stripped from their stalks and roughly
chopped
• salt and black pepper
Method
1. Heat the oil in a pan over a low heat,
fry the onions gently for 10 mins to
soften
2. Add the chorizo and fry, stirring
occasionally, for a few minutes more.
3. Stir in the chilli, tomatoes, spelt
and stock and season with salt and
pepper.
4. Bring to the boil, reduce the heat and
simmer for 20mins.
5. Meanwhile, blanch the kale in a pan
of boiling water for 1 min. Drain and
cool in cold water, then squeeze out
excess water and roughly chop.
6. Add the kale to the pan and cook for
a further 15mins or until the spelt is
tender. Season before serving.
Kale spelt and chorizo big soup, Serves 4
This is a chunky broth that we sometimes like to call a big soup. The basic
requirements are onion and garlic, a grain, good stock and lots of veg,
but you can liven it up with bacon or chorizo, by stirring in pesto or by
sprinkling over gremolata. It also reheats well.
Tip: to skin tomatoes easily, cut a little cross in the base then lower
them in a bowl of boiling water. Leave for about 45 seconds until you can
see the skins just starting to furl away at the base, then transfer them to a
bowl of cold water and peel off the skins. A good tomato purée (containing
only tomato) is often a better alternative in winter.