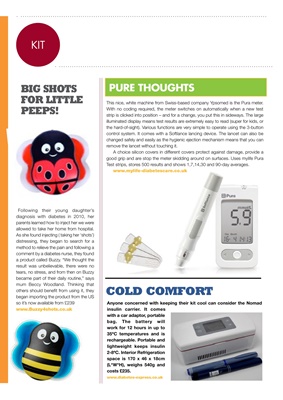 KIT
big shots pure thoughts
for little This nice, white machine from Swiss-based company Ypsomed is the Pura meter.
peeps! With no coding required, the meter switches on automatically when a new test
strip is clicked into position – and for a change, you put this in sideways. The large
illuminated display means test results are extremely easy to read (super for kids, or
the hard-of-sight). Various functions are very simple to operate using the 3-button
control system. It comes with a Softlance lancing device. The lancet can also be
changed safely and easily as the hygienic ejection mechanism means that you can
remove the lancet without touching it.
A choice silicon covers in different covers protect against damage, provide a
good grip and are stop the meter skidding around on surfaces. Uses mylife Pura
Test strips, stores 500 results and shows 1,7,14,30 and 90-day averages.
www.mylife-diabetescare.co.uk
Following their young daughter's
diagnosis with diabetes in 2010, her
parents learned how to inject her we were
allowed to take her home from hospital.
As she found injecting ( taking her 'shots')
distressing, they began to search for a
method to relieve the pain and following a
comment by a diabetes nurse, they found
a product called Buzzy. "We thought the
result was unbelievable, there were no
tears, no stress, and from then on Buzzy
became part of their daily routine," says
mum Beccy Woodland. Thinking that
others should benefit from using it, they
began importing the product from the US
cold comfort
so it's now available from £239 Anyone concerned with keeping their kit cool can consider the Nomad
www.Buzzy4shots.co.uk insulin carrier. It comes
with a car adaptor, portable
bag. The battery will
work for 12 hours in up to
35ºC temperatures and is
rechargeable. Portable and
lightweight keeps insulin
2-8ºC. Interior Refrigeration
space is 170 x 46 x 18cm
(L*W*H), weighs 540g and
costs £235.
www.diabetes-express.co.uk