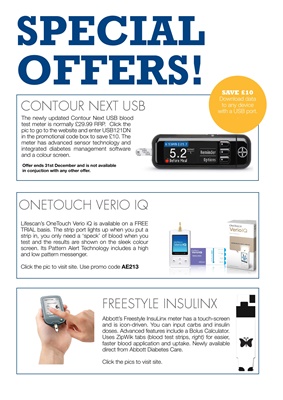 special
offers! saVe £10
Download data
cONTOUr NExT USB to any device
with a USB port.
The newly updated Contour Next USB blood .
test meter is normally £29.99 RRP. Click the
pic to go to the website and enter USB121DN
in the promotional code box to save £10. The
meter has advanced sensor technology and
integrated diabetes management software
and a colour screen.
Offer ends 31st December and is not available
in conjuction with any other offer.
ONETOUcH VErIO Iq
Lifescan's OneTouch Verio iQ is available on a FREE
TRIAL basis. The strip port lights up when you put a
strip in, you only need a 'speck' of blood when you
test and the results are shown on the sleek colour
screen. Its Pattern Alert Technology includes a high
and low pattern messenger.
Click the pic to visit site. Use promo code AE213
FrEESTyLE INSULINx
Abbott's Freestyle InsuLinx meter has a touch-screen
and is icon-driven. You can input carbs and insulin
doses. Advanced features include a Bolus Calculator.
Uses ZipWik tabs (blood test strips, right) for easier,
faster blood application and uptake. Newly available
direct from Abbott Diabetes Care.
Click the pics to visit site.