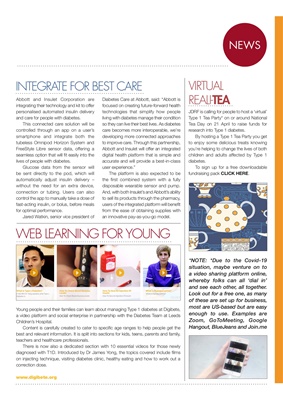 NEWS
Abbott and Insulet Corporation are
integrating their technology and kit to offer
personalised automated insulin delivery
and care for people with diabetes.
This connected care solution will be
controlled through an app on a user's
smartphone and integrate both the
tubeless Omnipod Horizon System and
FreeStyle Libre sensor data, offering a
seamless option that will fit easily into the
lives of people with diabetes.
Glucose ata from the sensor will
be sent directly to the pod, which will
automatically adjust insulin delivery -
without the need for an extra device,
connection or tubing. Users can also
control the app to manually take a dose of
fast-acting insulin, or bolus, before meals
for optimal performance.
Jared Watkin, senior vice president of
INTEGRATE FOR BEST CARE
Diabetes Care at Abbott, said: "Abbott is
focused on creating future-forward health
technologies that simplify how people
living with diabetes manage their condition
so they can live their best lives. As diabetes
care becomes more interoperable, we're
developing more connected approaches
to improve care. Through this partnership,
Abbott and Insulet will offer an integrated
digital health platform that is simple and
accurate and will provide a best-in-class
user experience."
The platform is also expected to be
the first combined system with a fully
disposable wearable sensor and pump.
And, with both Insulet's and Abbott's ability
to sell its products through the pharmacy,
users of the integrated platform will benefit
from the ease of obtaining supplies with
an innovative pay-as-you-go model.
JDRF is calling for people to host a 'virtual'
Type 1 Tea Party* on or around National
Tea Day on 21 April to raise funds for
research into Type 1 diabetes.
By hosting a Type 1 Tea Party you get
to enjoy some delicious treats knowing
you're helping to change the lives of both
children and adults affected by Type 1
diabetes.
To sign up for a free downloadable
fundraising pack CLICK HERE.
VIRTUAL
REALI-TEA
*NOTE: *Due to the Covid-19
situation, maybe venture on to
a video sharing platform online,
whereby folks can all 'dial in'
and see each other, all together.
Look out for a free one, as many
of these are set up for business,
most are US-based but are easy
enough to use. Examples are
Zoom, GoToMeeting, Google
Hangout, BlueJeans and Join.me
Young people and their families can learn about managing Type 1 diabetes at Digibete,
a video platform and social enterprise in partnership with the Diabetes Team at Leeds
Children's Hospital.
Content is carefully created to cater to specific age ranges to help people get the
best and relevant information. It is split into sections for kids, teens, parents and family,
teachers and healthcare professionals.
There is now also a dedicated section with 10 essential videos for those newly
diagnosed with T1D. Introduced by Dr James Yong, the topics covered include films
on injecting technique, visiting diabetes clinic, healthy eating and how to work out a
correction dose.
WEB LEARNING FOR YOUNG