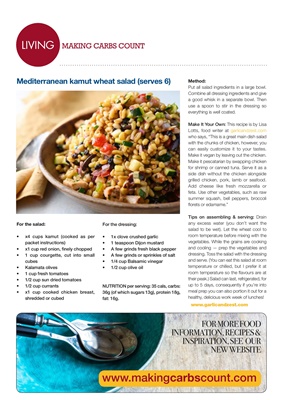 LIVINGLIVING
Mediterranean kamut wheat salad (serves 6)
For the salad:
• x4 cups kamut (cooked as per
packet instructions)
• x1 cup red onion, finely chopped
• 1 cup courgette, cut into small
cubes
• Kalamata olives
• 1 cup fresh tomatoes
• 1/2 cup sun dried tomatoes
• 1/2 cup currants
• x1 cup cooked chicken breast,
shredded or cubed
MAKING CARBS COUNT
Method:
Put all salad ingredients in a large bowl.
Combine all dressing ingredients and give
a good whisk in a separate bowl. Then
use a spoon to stir in the dressing so
everything is well coated.
Make It Your Own: This recipe isby Lisa
Lotts, food writer at www.garlicandzest.
com who says, "This is a great main
dish salad with the chunks of chicken,
however, you can easily customize it to
your tastes. Make it vegan by leaving
out the chicken. Make it pescatarian by
swapping chicken for shrimp or canned
tuna. Serve it as a side dish without the
chicken alongside grilled chicken, pork,
lamb or seafood. Add cheese like fresh
mozzarella or feta. Use other vegetables,
such as raw summer squash, bell
peppers, broccoli florets or edamame."
Tips on assembling & serving: Drain
any excess water (you don't want the
salad to be wet). Let the wheat cool to
room temperature before mixing with the
vegetables. While the grains are cooking
and cooling - prep the vegetables and
dressing. Toss the salad with the dressing
and serve. (You can eat this salad at room
temperature or chilled, but I prefer it at
room temperature so the flavours are at
their peak.) Salad can last, refrigerated, for
up to 5 days, consequently if you're into
meal prep you can also portion it out for a
healthy, delicious work week of lunches!
FOR MORE FOOD
INFORMATION, RECIPES &
INSPIRATION, SEE OUR
NEW WEBSITE
For the dressing:
• 1x clove crushed arlic
• 1 teaspoon Dijon mustard
• A few grinds fresh black pepper
• A few grinds or sprinkles of salt
• 1/4 cup Balsamic vinegar
• 1/2 cup olive oil
NUTRITION per serving: 35 cals, carbs:
36g (of which sugars 13g), protein 18g,
fat: 16g.