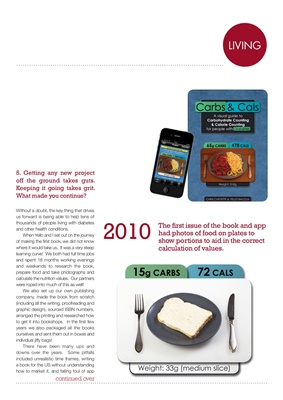 KITLIVING
us forward is being able to help tens of
thousands of people living with diabetes
and other health conditions.
When Yello and I set out on the journey
of making the first book, we did not know
where it would take us. It was a very steep
learning curve! We both had full time jobs
and spent 18 months working evenings
and weekends to research the book,
prepare food and take photographs and
calculate the nutrition values. Our partners
were roped into much of this as well!
We also set up our own publishing
company, made the book from scratch
(including all the writing, proofreading and
graphic design), sourced ISBN numbers,
arranged the printing and researched how
to get it into bookshops. In the first few
years we also packaged all the books
ourselves and sent them out in boxes and
individual jiffy bags!
There have been many ups and
downs over the years. Some pitfalls
included unrealistic time frames, writing
a book for the US without understanding
how to market it, and falling foul of app
developers who have gone into liquidation.
That one cost us a lot of money and put
The first issue of the book series
and app which had photos of food
on plates to show portions and aid
the correct calculation of values..
continued over 2010
5. Getting any new project
off the ground takes guts.
Keeping it going takes grit.
What made you continue?