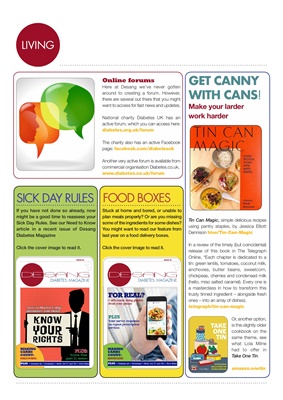 LIVINGLIVING
Tin Can Magic, simple delicious recipes
using pantry staples, by Jessica Elliott
Dennison hive/Tin-Can-Magic
In a review of the timely (but coincidental)
release of this book in The Telegraph
Online, "Each chapter is dedicated to a
tin: green lentils, tomatoes, coconut milk,
anchovies, butter beans, sweetcorn,
chickpeas, cherries and condensed milk
(hello, miso salted caramel). Every one is
a masterclass in how to transform this
trusty tinned ingredient - alongside fresh
ones - into an array of dishes).
telegraph/tin-can-magic
Or, another option,
is this slightly older
cookbook on the
same theme, see
what Lola Milne
had to offer in
Take One Tin.
amazon.onetin
GET CANNY
WITH CANS!
If you have not done so already,
now might be a good time to
reassess your Sick Day Rules.
See our Need to Know article
in a recent issue of Desang
Diabetes Magazine (click the
cover image below to read it).
SICK DAY RULES Online forums
Here at Desang we've never gotten
around to creating a forum. However,
there are several out there that you might
want to access for fast news and updates.
National charity Diabetes UK has an
active forum, which you can access here:
diabetes.org.uk/forum
The charity also has an active Facebook
page: facebook.com/diabetesuk
Another very active forum is available from
commercial organisation Diabetes.co.uk,
Make your larder
work harder
Stuck at home and bored,
or unable to plan meals
properly? Some of you might
want to read our feature from
last year on a food delivery
boxes. Click the cover image
to read the story.
FOOD BOXES
ISSUE 98
DIABETES MAGAZINE
DESANG
FOR REAL?
MAKING
CARBS
COUNT:
BRITISH LEEKS
PLUS • Diabetes kit • Giveaways • News (for T1 and T2) • Food News
PLUS
Your survey responses
on repeat prescription
services
Carb-count using photos
from your phone