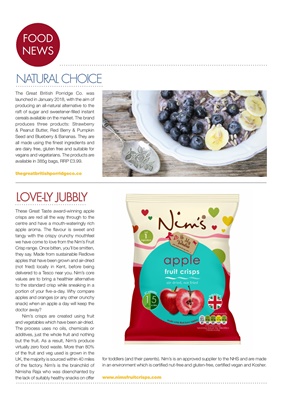 LIVINGLIVING
FOOD
NEWS
LOVE-LY JUBBLY
NATURAL CHOICE
The Great British Porridge Co. was
launched in January 2018, with the aim of
producing an all-natural alternative to the
raft of sugar and sweetener-filled instant
cereals available on the market. The brand
produces three products: Strawberry
& Peanut Butter, Red Berry & Pumpkin
Seed and Blueberry & Bananas. They are
all made using the finest ingredients and
are dairy free, gluten free and suitable for
vegans and vegetarians. The products are
available in 385g bags, RRP £3.99.
thegreatbritishporridgeco.co
These Great Taste award-winning apple
crisps are red all the way through to the
centre and have a mouth-wateringly rich
apple aroma. The flavour is sweet and
tangy with the crispy crunchy mouthfeel
we have come to love from the Nim's Fruit
Crisp range. Once bitten, you'll be smitten,
they say. Made from sustainable Redlove
apples that have been grown and air-dried
(not fried) locally in Kent, before being
delivered to a Tesco near you. Nim's core
values are to bring a healthier alternative
to the standard crisp while sneaking in a
portion of your five-aaday. Why compare
apples and oranges (or any other crunchy
snack) when an apple a day will keep the
doctor away?
Nim's crisps are created using fruit
and vegetables which have been air-dried.
The process uses no oils, chemicals or
additives, just the whole fruit and nothing
but the fruit. As a result, Nim's produce
virtually zero food waste. More than 80%
of the fruit and veg used is grown in the
UK, the majority is sourced within 40 miles
of the factory. Nim's is the brainchild of
Nimisha Raja who was disenchanted by
the lack of suitably healthy snacks on offer
for toddlers (and their parents). Nim's is an approved supplier to the NHS and areade in
an environment which is certified nut free and gluten free, certified vegan and Kosher.