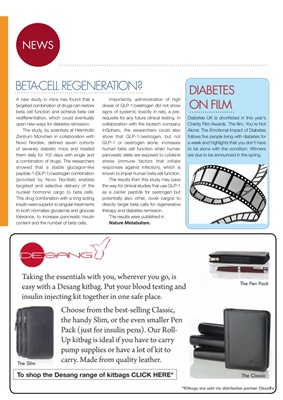 NEWS
BETA-CELL REGENERATION?
A new study in mice has found that a
targeted combination of drugs can restore
beta cell function and achieve beta-cell
redifferentiation, which could eventually
open new ways for diabetes remission.
The study, by scientists at Helmholtz
Zentrum München in collaboration with
Novo Nordisk, defined seven cohorts
of severely diabetic mice and treated
them daily for 100 days with single and
a combination of drugs. The researchers
showed that a stable glucagonlike peptide-1 (GLP-1)/oestrogen
combination (provided by Novo Nordisk)
enables targeted and selective delivery
of the nuclear hormone cargo to beta
cells. This drug combination and a longacting insulin were
superior to singular
treatments to both normalise glycemia,
glucose tolerance, to increase pancreatic
insulin content and to increase the number
of beta cells.
Importantly, administration of high
doses of GLP-1/oestrogen did not show
signs of systemic toxicity in rats, a prerequisite
for any future clinical testing. In
collaboration with the biotech company
InSphero, the researchers could also
show that GLP-1/oestrogen, but not
GLP-1 or oestrogen alone, increases
human beta-cell function when human
pancreatic islets are exposed to cytokine
stress, which is known to impair human
beta-cell function.
The results from this study may pave
the way for clinical studies that use GLP-1
as a carrier peptide for oestrogen but
potentially also other, novel cargos to
directly target beta cells for regenerative
therapy and diabetes remission.
The results were published in Nature
Metabolism.
DIABETES
ON FILM
Diabetes UK is shortlisted in this year's
Charity Film Awards. The film, You're Not
Alone: The Emotional Impact of Diabetes
follows five people living with diabetes for
a week and highlights that you don't have
to be alone with the condition. Winners
are due to be announced in the spring.