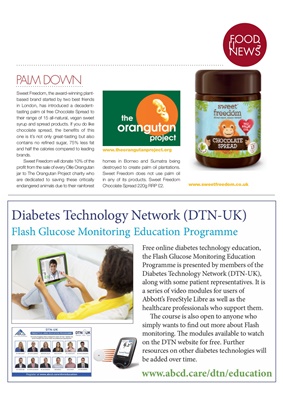 KITLIVING
PALM DOWN
FOOD
NEWS
Sweet Freedom, the award-winning plantbased brand started by two best friends
in London, has introduced a decadenttasting palm oil free
Chocolate Spread to
their range of 15 all-natural, vegan sweet
syrup and spread products. If you do like
chocolate spread, the benefits of this
one is it's not only great-tasting but also
contains no refined sugar, 75% less fat
and half the calories compared to leading
brands.
Sweet Freedom will donate 10% of the
profit from the sale of every Ollie Orangutan
jar to The Orangutan Project charity who
are dedicated to saving these critically
endangered animals due to their rainforest
homes in Borneo and Sumatra being
destroyed to create palm oil plantations.
Sweet Freedom does not use palm oil
in any of its products. Sweet Freedom
Chocolate Spread 220g RRP £2.