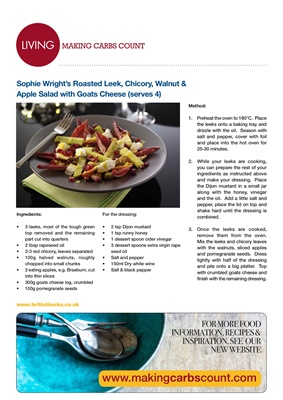 LIVINGLIVING
Sophie Wright's Roasted Leek, Endive, Walnut &
Apple Salad with Goats Cheese (serves 4)
Ingredients:
• 3 leeks, most of the tough green
top removed and the remaining
part cut into quarters
• 2 tbsp rapeseed oil
• 2-3 red endives, leaves separated
• 100g halved walnuts, roughly
chopped into small chunks
• 2 eating apples, e.g. Braeburn, cut
into thin slices
• 300g goats cheese log, crumbled
• 100g pomegranate seeds
MAKING CARBS COUNT
Method:
1. Preheat the oven to 190°C. Place
the leeks onto a baking tray and
drizzle with the oil. Season with
salt and pepper, cover with foil
and place into the hot oven for
25-30 minutes.
2. While your leeks are cooking,
you can prepare the rest of your
ingredients as instructed above
and make your dressing. Place
the Dijon mustard in a small jar
along with the honey, vinegar
and the oil. Add a little salt and
pepper, place the lid on top and
shake hard until the dressing is
combined.
3. Once the leeks are cooked,
remove them from the oven.
Mix the leeks and endive leaves
with the walnuts, sliced apples
and pomegranate seeds. Dress
lightly with half of the dressing
and pile onto a big platter. Top
with crumbled goats cheese and
finish with the remaining dressing.
FOR MORE FOOD
INFORMATION, RECIPES &
INSPIRATION, SEE OUR
NEW WEBSITE
For the dressing:
• 2 tsp Dijon mustard
• 1 tsp runny honey
• 1 dessert spoon cider vinegar
• 3 dessert spoons extra virgin rape
seed oil
• Salt and pepper
• 150ml Dry white wine
• Salt & black pepper