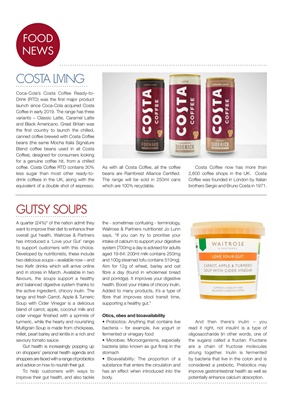 LIVINGLIVING
FOOD
NEWS
A quarter (24%)* of the nation admit they
want to improve their diet to enhance their
overall gut health, Waitrose & Partners
has introduced a 'Love your Gut' range
to support customers with this choice.
Developed by nutritionists, these include
two delicious soups - available now - and
two Kefir drinks which will arrive online
and in stores in March. Available in two
flavours, the soups support a healthy
and balanced digestive system thanks to
the active ingredient, chicory inulin. The
tangy and fresh Carrot, Apple & Tumeric
Soup with Cider Vinegar is a delicious
blend of carrot, apple, coconut milk and
cider vinegar finished with a sprinkle of
turmeric, while the hearty and nourishing
Multigrain Soup is made from chickpeas,
millet, pearl barley and lentils in a rich and
savoury tomato sauce.
Gut health is increasingly popping up
on shoppers' personal health agenda and
shoppers are faced with a range of probiotics
and advice on how to nourish their gut.
To help customers with ways to
improve their gut health, and also tackle
GUTSY SOUPS
COSTA LIVING
Coca-Cola's Costa Coffee Ready-toDrink (RTD)
was the first major product
launch since Coca-Cola acquired Costa
Coffee in early 2019. The range has three
variants - Classic Latte, Caramel Latte
and Black Americano. Great Britain was
the first country to launch the chilled,
canned coffee brewed with Costa Coffee
beans (the same Mocha Italia Signature
Blend coffee beans used in all Costa
Coffee), designed for consumers looking
for a genuine coffee hit, from a chilled
coffee. Costa Coffee RTD contains 30%
less sugar than most other ready-todrink coffees
in the UK, along with the
equivalent of a double shot of espresso.
As with all Costa Coffee, all the coffee
beans are Rainforest Alliance Certified.
The range will be sold in 250ml cans
which are 100% recyclable.
Costa Coffee now has more than
2,600 coffee shops in the UK. Costa
Coffee was founded in London by Italian
brothers Sergio and Bruno Costa in 1971.
the - sometimes confusing - terminology,
Waitrose & Partners nutritionist Jo Lunn
says, "If you can try to prioritise your
intake of calcium to support your digestive
system [700mg a day is advised for adults
aged 19-64: 200ml milk contains 250mg
and 100g steamed tofu contains 510mg].
Aim for 12g of wheat, barley and oat
fibre a day (found in wholemeal bread
and porridge). It improves your digestive
health. Boost your intake of chicory inulin.
Added to many products, it's a type of
fibre that improves stool transit time,
supporting a healthy gut."
Otics, obes and bioavailability
• Probiotics: Anything that contains live
bacteria - for example, live yogurt or
fermented or vinegary food
• Microbes: Microorganisms, especially
bacteria (also known as gut flora) in the
stomach
• Bioavailability: The proportion of a
substance that enters the circulation and
has an effect when introduced into the
body.
And then there's inulin - you
read it right, not insulin! is a type of
oligosaccharide (in other words, one of
the sugars) called a fructan. Fructans
are a chain of fructose molecules
strung together. Inulin is fermented
by bacteria that live in the colon and is
considered a prebiotic. Prebiotics may
improve gastrointestinal health as well as
potentially enhance calcium absorption.