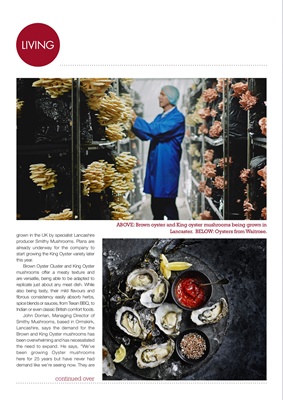 LIVINGLIVINGcontinued over
mushrooms are now being commercially
grown in the UK by specialist Lancashire
producer Smithy Mushrooms. Plans are
already underway for the company to
start growing the King Oyster variety later
this year.
Brown Oyster Cluster and King Oyster
mushrooms offer a meaty texture and are
versatile, being able to be adapted to
replicate just about any meat dish. While
also being tasty, their mild flavours and
fibrous consistency easily absorb herbs,
spice blends or sauces, from Texan BBQ,
to Indian or even classic British comfort
foods.
John Dorrian, Managing Director of
Smithy Mushrooms, based in Ormskirk,
Lancashire, says the demand for the
Brown and King Oyster mushrooms has
been overwhelming and has necessitated
the need to expand. He says, "We've
been growing Oyster mushrooms here
ABOVE: Brown oyster and King oyster mushrooms being grown in
Lancaster. BELOW: Oysters from Waitrose.