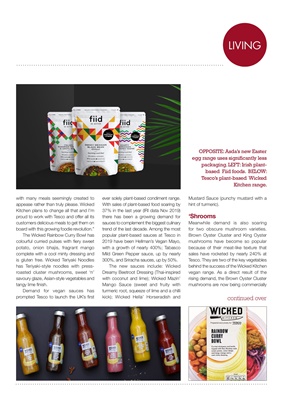 KITLIVING
continued over
with many meals seemingly created to
appease rather than truly please. Wicked
Kitchen plans to change all that and I'm
proud to work with Tesco and offer all its
customers delicious meals to get them on
board with this growing foodie revolution."
Rainbow Curry Bowl has wicked
colourful curried pulses with fiery sweet
potato, onion bhajis, fragrant mango
and a cool minty dressing. This one's
gluten free. Wicked Teriyaki Noodles has
Teriyaki-style noodles with press-roasted
cluster mushrooms, sweet 'n' savoury
glaze, Asian-style vegetables and tangy
lime to finish.
Demand for vegan sauces has
prompted Tesco to launch the UK's first
ever solely plant-based condiment range.
With sales of plant-based food soaring
by 37% in the last year (IRI data Nov
2019) there has been a growing demand
for sauces to complement the biggest
culinary trend of the last decade. Among
the most popular plant-based sauces at
Tesco in the last year have been Hellman's
Vegan Mayo - with a growth of nearly
400%; Tabasco Mild Green Pepper sauce,
up by nearly 300%; Sriracha sauces, up
by 50%.
The new sauces include: Wicked
Dreamy Beetroot Dressing (Thai-inspired
with coconut and lime); Wicked Mazin'
Mango Sauce (sweet and fruity with
turmeric root, squeeze of lime and a chilli
kick); Wicked Hella' Horseradish and
Mustard Sauce (punchy mustard with a
hint of turmeric).
'Shrooms
Meanwhile demand is also soaring
for two obscure mushroom varieties.
Brown Oyster Cluster and King Oyster
mushrooms have become so popular
because of their meat-like texture that
sales have rocketed by nearly 240% at
Tesco. They are two of the key vegetables
behind the success of the Wicked Kitchen
vegan range. As a direct result of the
rising demand, the Brown Oyster Cluster
OPPOSITE: Asda's new Easter
egg range uses significantly less
packaging. LEFT: Irish plantbased Fiid foods.
BELOW:
Tesco's plant-based Wicked
Kitchen range.