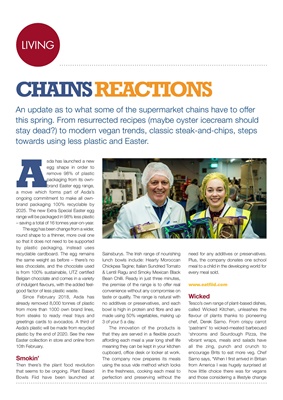 LIVINGLIVING
CHAINS REACTIONS
An update as to what some of the supermarket chains have to offer
this spring. From resurrected recipes (maybe oyster icecream should
stay dead?) to modern vegan trends, classic steak-and-chips, steps
towards using less plastic and Easter.
A
sda has launched a new
egg shape in order to
remove 98% of plastic
packaging from its ownbrand Easter egg range,
a move which forms part of Asda's
ongoing commitment to make all ownbrand packaging 100% recyclable
by
2025. The new Extra Special Easter egg
range will be packaged in 98% less plastic
- saving a total of 16 tonnes year-on-year.
The egg has been change from a wider,
round shape to a thinner, more oval one
so that it does not need to be supported
by plastic packaging, instead uses
recyclable cardboard. The egg remains
the same weight as before - there's no
less chocolate, and the chocolate used
is from 100% sustainable, UTZ certified
Belgian chocolate and comes in a variety
of indulgent flavours, with the added feelgood factor of less plastic waste.
Since February 2018, Asda has
already removed 8,000 tonnes of plastic
from more than 1000 own brand lines,
from steaks to ready meal trays and
greetings cards to avocados. A third of
Asda's plastic will be made from recycled
plastic by the end of 2020. See the new
Easter collection in store and online from
10th February.
Smokin'
Then there's the plant food revolution
that seems to be ongoing. Plant Based
Bowls Fiid have been launched at
Sainsburys. The Irish range of nourishing
lunch bowls include: Hearty Moroccan
Chickpea Tagine; Italian Sundried Tomato
& Lentil Ragu and Smoky Mexican Black
Bean Chilli. Ready in just three minutes,
the premise of the range is to offer real
convenience without any compromise on
taste or quality. The range is natural with
no additives or preservatives, and each
bowl is high in protein and fibre and are
made using 50% vegetables, making up
3 of your 5 a day.
The innovation of the products is
that they are served in a flexible pouch
affording each meal a year long shelf life
meaning they can be kept in your kitchen
cupboard, office desk or locker at work.
The company now prepares its meals
using the sous vide method which locks
in the freshness, cooking each meal to
perfection and preserving without the
need for any additives or preservatives.
Plus, the company donates one school
meal to a child in the developing world for
every meal sold.
Wicked
Tesco's own range of plant-based dishes,
called Wicked Kitchen, unleashes the
flavour of plants thanks to pioneering
chef, Derek Sarno. From crispy carrot
'pastrami' to wicked-meated barbecued
'shrooms and Sourdough Pizza, the
vibrant wraps, meals and salads have
all the zing, punch and crunch to
encourage Brits to eat more veg. Chef
Sarno says, "When I first arrived in Britain
from America I was hugely surprised at
how little choice there was for vegans
and those considering a lifestyle change