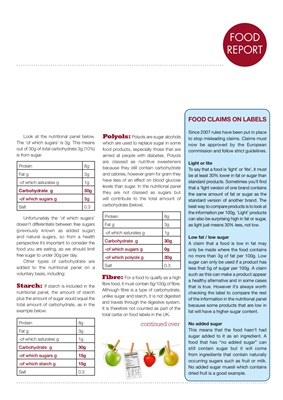 KITLIVING
FOOD
REPORT
continued over
Protein 8g
Fat g 3g
-of which saturates g 1g
Carbohydrate g 30g
-of which sugars g 15g
-of which starch g 15g
Salt 0.3
Fibre: For a food to qualify as a high
fibre food, it must contain 6g/100g of fibre.
Although fibre is a type of carbohydrate,
unlike sugar and starch, it is not digested
and travels through the digestive system.
It is therefore not counted as part of the
total carbs on food labels in the UK.
Polyols: Polyols are sugar alcohols
which are used to replace sugar in some
food products, especially those that are
aimed at people with diabetes. Polyols
are classed as nutritive sweeteners
because they still contain carbohydrate
and calories, however gram for gram they
have less of an effect on blood glucose
levels than sugar. In the nutritional panel
they are not classed as sugars but
will contribute to the total amount of
carbohydrate (below).
Barley malt
Golden sugar
Molasses
Demerara sugar
Golden syrup
Glucose
Glucose solids
Muscovado sugar
Dextran
Dextrose
High-fructosecorn-syrup
Treacle
Castor sugar
Malt syrup
Honey
Caramel
Cane sugar
Invert sugar
Rice syrup
Agave Nectar
Galactose
Lactose
Corn syrup
Fructose
Malt
Maltodextrin
Sucrose
Maltose
OTHER NAMES FOR SUGAR
voluntary basis, including:
Starch: If starch is included in the
nutritional panel, the amount of starch
plus the amount of sugar would equal the
total amount of carbohydrate, as in the
example below:
Protein 8g
Fat g 3g
-of which saturates g 1g
Carbohydrate g 30g
-of which sugars g 0g
-of which polyols g 30g
Salt 0.3
If a food or drink product has 2 or more ingredients (including any additives), these
must be listed on the label. Ingredients must be listed in order of weight, with the
main ingredient first. This can be a quick way to look at what is in the food you
eat and because of how the ingredients is listed it should give you an indication
of how high or low a product is in sugar, fat and salt.
Sometimes a manufacturer may use a few different types of sugar in a food
product. This allows the various types of sugar to be listed further down the
ingredients list than if just one type of sugar was used, so it's helpful to know the
various names used for different types of sugar. Below are some examples.
Ingredients list