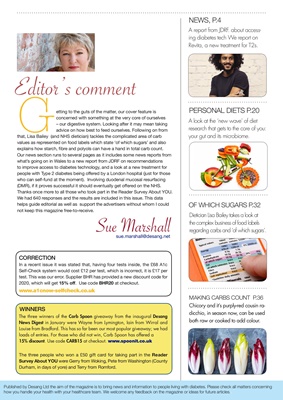 Published by Desang Ltd the aim of the magazine is to bring news and information to people living with diabetes. Please check all matters concerning
how you handle your health with your healthcare team. We welcome any feedback on the magazine or ideas for future articles..
Sue Marshall
Running on
Editor's comment
Dietician Lisa Bailey takes a look at
the complex business of food labels
regarding carbs and 'of which sugars'.
OF WHICH SUGARS P.26.
NEWS, P.4
A report from JDRF about accessing diabetes tech. Revita, a new
duodenal treatment for T2s.
A look at the 'new wave' of diet
research that gets to the core of you:
your gut and its microbiome.
PERSONAL DIETS P.20.
MAKING CARBS COUNT P.36.
Chicory and it's purply-red cousin
radiccio, in season now, can be used
both raw or cooked. P.36.
In a recent issue it was stated that, having four tests inside, the £68 A1c
Self-Check system would cost £12 per test, which is incorrect, it is £17
per test. This was our error. Supplier BHR has provided a new discount
code for 2020, which will get 15% off. Use BHR20 at checkout.
CORRECTION
WINNERS
The three winners of the Carb Spoon giveaway from the inaugural
Desang News Digest in January were Wayne from Lymington, Iain from
Wirral and Louise from Bradford. This has so far been out most popular
giveaway. For those who did not win, Carb Spoon is offering 15%
discount. Use code CARB15 at www.spoonit.co.uk
The three people who won a £50 gift card for taking part in the Reader
Survey About YOU were Gerry from Woking, Peter from Washington
and Terry from Romford.