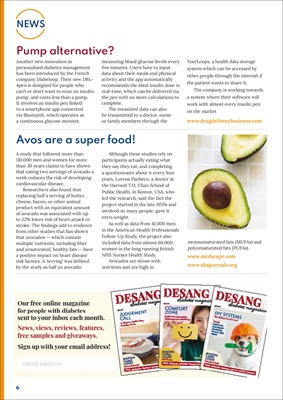 6
NEWS
Pump alternative?
Another new innovation in
personalised diabetes management
has been introduced by the French
company Diabeloop. Their new DBL4pen is designed
for people who
can't or don't want to wear an insulin
pump, and costs less than a pump.
It involves an insulin pen linked
to a smartphone app connected
via Bluetooth, which operates as
a continuous glucose monitor,
measuring blood glucose levels every
five minutes. Users have to input
data about their meals and physical
activity and the app automatically
recommends the ideal insulin dose in
real-time, which can be delivered via
the pen with no more calculations to
complete.
The measured data can also
be transmitted to a doctor, nurse
or family members through the
YourLoops, a health data storage
system which can be accessed by
other people through the internet if
the patient wants to share it.
The company is working towards
a system where their software will
work with almost every insulin pen
on the market
Avos are a super food!
A study that followed more than
110,000 men and women for more
than 30 years claims to have shown
that eating two servings of avocado a
week reduces the risk of developing
cardiovascular disease.
Researchers also found that
replacing half a serving of butter,
cheese, bacon, or other animal
product with an equivalent amount
of avocado was associated with up
to 22% lower risk of heart attack or
stroke. The findings add to evidence
from other studies that has shown
that avocados - which contain
multiple nutrients, including fiber
and unsaturated, healthy fats - have
a positive impact on heart disease
risk factors. A 'serving' was defined
by the study as half an avocado.
Although these studies rely on
participants actually eating what
they say they eat, and completing
a questionnaire about it every four
years, Lorena Pacheco, a doctor at
the Harvard T.H. Chan School of
Public Health, in Boston, USA, who
led the research, said the fact the
project started in the late 1970s and
involved so many people, gave it
extra weight.
As well as data from 41,000 men
in the American Health Professionals
Follow-Up Study, the project also
included data from almost 69,000
women in the long running British
NHS Nurses Health Study.
Avocados are dense with
nutrients and are high in
Our free online magazine
for people with diabetes
sent to your inbox each month.
News, views, reviews, features,
free samples and giveaways.
Sign up with your email address!
ISSUE 115
MAKING
CARBS
COUNT
MILK ALTERNATIVES
PLUS Diabetes kit • Giveaways • News (for T1 and T2) • Food News
JUDGEMENT
CALL
10 things to consider when
choosing a meter
PLUS
Who's Zooming who?
An update on digital
health delivery
ISSUE 111
MAKING
CARBS
COUNT
BELL PEPPERS
PLUS Diabetes kit • Giveaways • News (for T1 and T2) • Food News
COMFORT
ZONE
Roche's new micropump:
designed for user satisfaction
PLUS
Dexcom's next
generation G7 sensor ISSUE 119
MAKING
CARBS
COUNT
LUSCIOUS LYCHEES
PLUS Diabetes kit • Giveaways • News (for T1 and T2) • Food News
DIY SYSTEMS
The ultimate in self-care?
PLUS
Roche's new
meter launch:
introducing
the Accu-Chek
Instant
email address
monounsaturated fats (MUFAs) and
polyunsaturated fats (PUFAs).