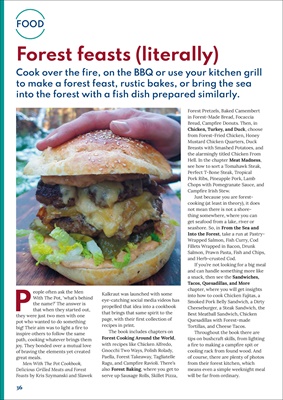 36
FOOD
Forest feasts (literally)
Cook over the fire, on the BBQ or use your kitchen grill
to make a forest feast, rustic bakes, or bring the sea
into the forest with a fish dish prepared similarly.
People often ask the Men
With The Pot, 'what's behind
the name?' The answer is
that when they started out,
they were just two men with one
pot who wanted to do something
big! Their aim was to light a fire to
inspire others to follow the same
path, cooking whatever brings them
joy. They bonded over a mutual love
of braving the elements yet created
great meals.
Men With The Pot Cookbook,
Delicious Grilled Meats and Forest
Feasts by Kris Szymanski and Slawek
Kalkraut was launched with some
eye-catching social media videos has
propelled that idea into a cookbook
that brings that same spirit to the
page, with their first collection of
recipes in print.
The book includes chapters on
Forest Cooking Around the World,
with recipes like Chicken Alfredo,
Gnocchi Two Ways, Polish Rolady,
Paella, Forest Takeaway, Tagliatelle
Ragu, and Campfire Ravioli. There's
also Forest Baking, where you get to
serve up Sausage Rolls, Skillet Pizza,
Forest Pretzels, Baked Camembert
in Forest-Made Bread, Focaccia
Bread, Campfire Donuts. Then, in
Chicken, Turkey, and Duck, choose
from Forest-Fried Chicken, Honey
Mustard Chicken Quarters, Duck
Breasts with Smashed Potatoes, and
the alarmingly titled Chicken From
Hell. In the chapter Meat Madness,
see how to sort a Tomahawk Steak,
Perfect T-Bone Steak, Tropical
Pork Ribs, Pineapple Pork, Lamb
Chops with Pomegranate Sauce, and
Campfire Irish Stew.
Just because you are forestcooking
(at least in theory), it does
not mean there is not a shorething somewhere,
where you can
get seafood from a lake, river or
seashore. So, in From the Sea and
Into the Forest, take a run at PastryWrapped
Salmon, Fish Curry, Cod
Fillets Wrapped in Bacon, Drunk
Salmon, Prawn Pasta, Fish and Chips,
and Herb-crusted Cod.
If you're not looking for a big meal
and can handle something more like
a snack, then see the Sandwiches,
Tacos, Quesadillas, and More
chapter, where you will get insights
into how to cook Chicken Fajitas, a
Smoked Pork Belly Sandwich, a Dirty
Cheeseburger, a Steak Sandwich, the
Best Meatball Sandwich, Chicken
Quesadillas with Forest-made
Tortillas, and Cheese Tacos.
Throughout the book there are
tips on bushcraft skills, from lighting
a fire to making a campfire spit or
cooling rack from found wood. And
of course, there are plenty of photos
from their forest kitchen, which
means even a simple weeknight meal
will be far from ordinary.