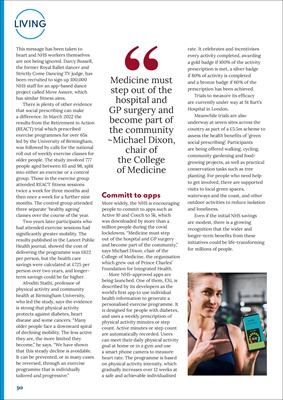 30
LIVING
This message has been taken to
heart and NHS workers themselves
are not being ignored. Darcy Bussell,
the former Royal Ballet dancer and
Strictly Come Dancing TV judge, has
been recruited to sign up 100,000
NHS staff for an app-based dance
project called Move Assure, which
has similar fitness aims.
There is plenty of other evidence
that social prescribing can make
a difference. In March 2022 the
results from the Retirement in Action
(REACT) trial which prescribed
exercise programmes for over 65s
led by the University of Birmingham,
was followed by calls for the national
roll out of weekly exercise classes for
older people. The study involved 777
people aged between 65 and 98, split
into either an exercise or a control
group. Those in the exercise group
attended REACT fitness sessions
twice a week for three months and
then once a week for a further nine
months. The control group attended
three separate 'healthy ageing'
classes over the course of the year.
Two years later participants who
had attended exercise sessions had
significantly greater mobility. The
results published in the Lancet Public
Health journal, showed the cost of
delivering the programme was £622
per person, but the health care
savings were calculated at £725 per
person over two years, and longerterm savings
could be far higher.
Afroditi Stathi, professor of
physical activity and community
health at Birmingham University,
who led the study, says the evidence
is strong that physical activity
protects against diabetes, heart
disease and some cancers. "Many
older people face a downward spiral
of declining mobility. The less active
they are, the more limited they
become," he says. "We have shown
that this steady decline is avoidable.
It can be prevented, or in many cases
be reversed, through an exercise
programme that is individually
tailored and progressive."
Medicine must
step out of the
hospital and
GP surgery and
become part of
the community
~Michael Dixon,
chair of
the College
of Medicine
Committ to apps
More widely, the NHS is encouraging
people to commit to apps such as
Active 10 and Couch to 5k, which
was downloaded by more than a
million people during the covid
lockdowns. "Medicine must step
out of the hospital and GP surgery
and become part of the community,"
says Michael Dixon, chair of the
College of Medicine, the organisation
which grew out of Prince Charles'
Foundation for Integrated Health.
More NHS-approved apps are
being launched. One of them, EXi, is
described by its developers as the
world's first app to use individual
health information to generate a
personalised exercise programme. It
is designed for people with diabetes,
and uses a weekly prescription of
physical activity minutes or step
count. Active minutes or step count
are automatically recorded. Users
can meet their daily physical activity
goal at home or in a gym and use
a smart phone camera to measure
heart rate. The programme is based
on physical activity intensity, which
gradually increases over 12 weeks at
a safe and achievable individualised
rate. It celebrates and incentivises
every activity completed, awarding
a gold badge if 100% of the activity
prescription is met, a silver badge
if 80% of activity is completed
and a bronze badge if 60% of the
prescription has been achieved.
Trials to measure its efficacy
are currently under way at St Bart's
Hospital in London.
Meanwhile trials are also
underway at seven sites across the
country as part of a £5.5m scheme to
assess the health benefits of 'green
social prescribing'. Participants
are being offered walking, cycling,
community gardening and foodgrowing
projects, as well as practical
conservation tasks such as tree
planting. For people who need help
to get involved, there are supported
visits to local green spaces,
waterways and the coast, and other
outdoor activities to reduce isolation
and loneliness.
Even if the initial NHS savings
are modest, there is a growing
recognition that the wider and
longer-term benefits from these
initiatives could be life-transforming
for millions of people.