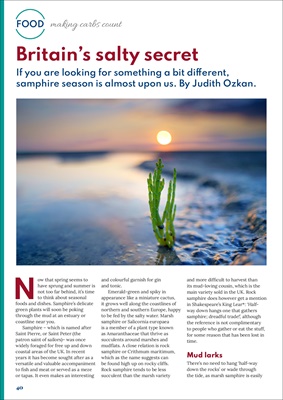 40
FOOD
FOR MORE FOOD
INFORMATION, RECIPES &
INSPIRATION, SEE OUR
NEW WEBSITE
making carbs count
Nutrition
Per serving:
554 calories
23g fat
52g carbohydrates (5g sugars)
5g fibre
23g protein
1.3g salt
Samphire recipe
Lemony salmon linguine (serves two)
Rather than adding samphire as a side, this recipe uses it in a pasta dish in combination with lemon and salmon - two
ingredients that it goes well with.
Ingredients
• 2 tbsp olive oil
• 1 onion, finely chopped
• ½ red chilli, finely sliced
• small glass of rosé or white wine
• 175g linguine
• 80g samphire
• 100g cooked salmon, flaked
• juice ½ lemon
• ½ small, preserved lemon, flesh
and pith scooped out, skin finely
chopped
• 1 tbsp finely chopped parsley stalks
(reserve the leaves, to serve)
Method
1. Heat the olive oil in a heavybottomed,
non-stick frying
pan. Add the preserved lemon,
onion, chilli, parsley stalks and
seasoning, and sweat for about
5 mins or until soft and fragrant.
Pour in the wine and let it bubble
for 1-2 mins.
2. Meanwhile, bring a large pot
of water to the boil (avoid salt
at this stage as the samphire
will balance that out). Add the
linguine and cook following pack
instructions. Throw the samphire
into the water with the linguine.
Cook for 30 secs, then drain
everything, reserving a few ladles
of the pasta water.
3. Add the linguine and samphire
to the frying pan with half a
ladle of the pasta water. Add the
salmon and lemon juice, and
stir thoroughly to combine into
a sauce, adding a splash more
of the pasta water if needed.
Season to taste. Divide between
plates and grind over some
black pepper. Garnish with the
chopped parsley, as desired.
BBC Good Food