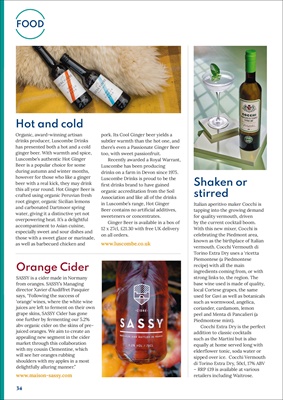 34
FOOD
Orange Cider
SASSY is a cider made in Normany
from oranges. SASSY's Managing
director Xavier d'Audiffret Pasquier
says, "Following the success of
'orange' wines, where the white wine
juices are left to ferment on their own
grape skins, SASSY Cider has gone
one further by fermenting our 5.2%
abv organic cider on the skins of prejuiced
oranges. We aim to create an
appealing new segment in the cider
market through this collaboration
with my cousin Clementine, which
will see her oranges rubbing
shoulders with my apples in a most
delightfully alluring manner."
Shaken or
stirred
Italian aperitivo maker Cocchi is
tapping into the growing demand
for quality vermouth, driven
by the current cocktail boom.
With this new mixer, Cocchi is
celebrating the Piedmont area,
known as the birthplace of Italian
vermouth. Cocchi Vermouth di
Torino Extra Dry uses a 'ricetta
Piemontese (a Piedmontese
recipe) with all the main
ingredients coming from, or with
strong links to, the region. The
base wine used is made of quality,
local Cortese grapes, the same
used for Gavi as well as botanicals
such as wormwood, angelica,
coriander, cardamom, lemon
peel and Menta di Pancalieri (a
Piedmontese mint).
Cocchi Extra Dry is the perfect
addition to classic cocktails
such as the Martini but is also
equally at home served long with
elderflower tonic, soda water or
sipped over ice. Cocchi Vermouth
di Torino Extra Dry, 50cl, 17% ABV
- RRP £19 is available at various
retailers including Waitrose.
Hot and cold
Organic, award-winning artisan
drinks producer, Luscombe Drinks
has presented both a hot and a cold
ginger beer. With warmth and spice,
Luscombe's authentic Hot Ginger
Beer is a popular choice for some
during autumn and winter months,
however for those who like a ginger
beer with a real kick, they may drink
this all year round. Hot Ginger Beer is
crafted using organic Peruvian fresh
root ginger, organic Sicilian lemons
and carbonated Dartmoor spring
water, giving it a distinctive yet not
overpowering heat. It's a delightful
accompaniment to Asian cuisine,
especially sweet and sour dishes and
those with a sweet glaze or marinade,
as well as barbecued chicken and
pork. Its Cool Ginger beer yields a
subtler warmth than the hot one, and
there's even a Passionate Ginger Beer
too, with sweet passionfruit.
Recently awarded a Royal Warrant,
Luscombe has been producing
drinks on a farm in Devon since 1975.
Luscombe Drinks is proud to be the
first drinks brand to have gained
organic accreditation from the Soil
Association and like all of the drinks
in Luscombe's range, Hot Ginger
Beer contains no artificial additives,
sweeteners or concentrates.
Ginger Beer is available in a box of
12 x 27cl, £21.30 with free UK delivery
on all orders.